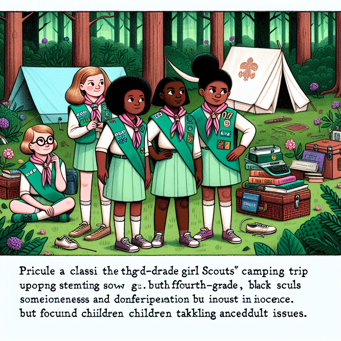 By ZZ Packer, first published in Harper's Magazine.
A Girl Scouts troop of fourth-grade Black girls swears revenge on a white troop accused of calling them the n-word. They soon learn that the situation is more complicated than they believed.
Summary
Laurel, or "Snot", is stuck on a fourth-grade Girl Scouts camping trip with girls she does not like. Only quiet, gentle Daphne is tolerable.
Everyone in the troop is Black. As the troop passes by the all-white Brownie Troop 909, Arnetta, the troop diva and bully, declares that they stink. Later that night, she claims that someone in Troop 909 called them the n-word, despite the fact that no one heard anyone say the n-word. Over the next few days, Arnetta and Octavia, Arnetta's second-in-command, convince the cabin to beat up Troop 909 in the bathroom. On the night of the assault, Daphne is the only one who chooses not to join, and Laurel joins only after coercion. Once the troop enters the bathroom, it becomes clear that the white girls are all developmentally challenged. Octavia refers to them with the r-word. The fight is called off. The n-word accusation eventually reaches the ears of the troop leaders. Troop 909 is penalized for it, and they begin to cry. On the bus ride home, the girls question why they "had to be stuck at the camp with the [r-word] girls." Arnetta speculates that it was due to prejudice. Daphne encourages Laurel to tell the story of what she and her father saw at the mall. This marks the first time Daphne has spoken during the entire trip. Laurel recounts the time that she and her father met a Mennonite family at the mall. She claims that "if you ask [Mennonites] to do a favor... they have to do it. It's in their rules," and describes how her father took advantage of that policy to make the Mennonites paint his porch. She quotes her father saying "it was the only time he'd have a white man on his knees doing something for a black man for free." His father did not thank the Mennonites afterwards. As she says these words, the unsettling realization that there's "something mean in the world that she cannot stop" dawns upon her. For the first time, she understands her father's unsavory motives: "when you've been made to feel bad for so long, you jump at the chance to do it to others."