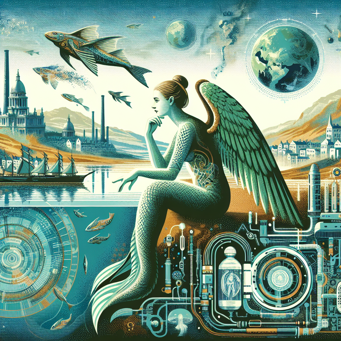 By Walter Jon Williams, first published in Asimov's Science Fiction.
A genetically modified mermaid works to solve the circumstances surrounding a scholar's mysterious disappearance, all the while reconciling with the meaning of death in a futuristic world where bodies can respawn in any imaginable form.
Summary
Michelle, a young woman, who has modified herself so that she has wings and the ability to breathe underwater, lives on a remote island in the sea. She was originally a human, but genetically modified herself to become an ape, then a mermaid. She receives a call from a notable biologist that a major scholar, Terzian, has gone missing; he needs her research skills to help find Terzian. She sends out some devices to help find out his whereabouts, meets with a local sailor who gives her groceries, and returns to her devices to find that they have located a match: Terizan was in Paris with a new girlfriend before his disappearance. The video reveals them looking at a dead man on the street. Earlier, Terzian, in France, presents at a small conference but leaves early. He witnesses a man's death, and as he tries to help, an English-speaking woman named Stephanie approaches him and asks him to take her elsewhere. She explains that the man was killed by what appeared to be friends who were with him: intellectual property police who tried to take the papers from the man's briefcase after he passed away. She knew the man who died, though not very well. Trusting Terzian, as he has just witnessed a murder, Stephanie tell him that the killers are Transistrian. She explains how Soviet agents from this unrecognized country have been ripping off Western scientific knowledge related to biotech, which is potentially very dangerous because they could release the unregulated genetics into the world. Stephanie is a nurse who works for a relief agency--this explains her concern for the safety of the world as a whole. Terzian goes to Stephanie's apartment to fetch her passport for her. The murderers find him, and as he attacks them, he loses her passport and has to abandon it. Back in the present, Michelle tries to learn more about Terzian's disappearance and recalls an old boyfriend, Darton, who is now dead. He died when the two of them were apes, but Michelle believes that he is somehow trying to find her again. In the past, Terzian and Stephanie, who is carrying illegal biotechnology, get on a train and escape Paris. Terzian learns that the technology she carries a a special formula that can make people undergo photosynthesis, therefore curing world hunger. In the present, Michelle finds records indicating that Terizan's female companion, Stephanie, was murdered in Venice. Stephanie was killed by those who do not want her to leak the technology and end world hunger. Michelle puts all the pieces of the story together and realizes that Terizan leaked the technology, which spread throughout Africa. Darton finally locates Michelle and the two have a conversation. His dead ape body has been reassembled into a living human body in the time since she knew him. It is revealed that, for a period of time, before his death, he was involved with another woman. Michelle reveals that she is the one who killed him when they were both apes, as punishment for his interest in another woman. Michelle tricks Darton into swimming into a tight tunnel and holds him underwater until he drowns. She murders Darton once again, though he is in a human form right now, not an ape form.