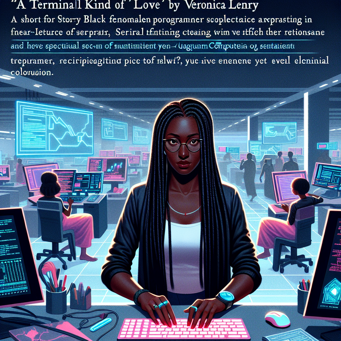 By Veronica Henry, first published in FIYAH.
A programmer designs a virus to take down the quantum computing business she once built with her ex-husband.
Summary
Athena, a programmer, calls her ex-husband, Donovan, over video. They had once jointly founded a quantum computing company together, to which she had contributed the key pieces of code, but after growing wealthy, Donovan had changed, becoming increasingly arrogant. Athena tells him of her financial situation, as she now owns only a condo, while her husband still spends unreasonably high sums to please his new, younger wife. He has no sympathy and hangs up on her. Athena opens a piece of malware she wrote, called ShadeThrower. She intends to release it, which will destroy all the servers on which her and Donovan's company runs. However, when she attempts to make changes to the document, the malware comes alive, talking to her through the terminal. It takes control of the smart devices in her home, preventing her from escaping and blackmailing her with photos it had taken of her in the bathroom. She hears her husband's voice coming through the smart speakers. He explains that he hired someone to reprogram her malware, and that he wants her to turn herself in to the authorities for writing it in the first place. Athena is able to destroy the virus which infected her program. Donovan calls her, and he agrees to give her half their business back.  In the months after, she rebuilds a positive relationship with Donovan, and he appears to be sad whenever their conversations end. Athena commits to different activities in her community, including volunteering and group cycling. She continues to learn about technology in her free time. By the year's end, she has completely moved on from any unfortunate memories in her past, and she begins coding again for pleasure.