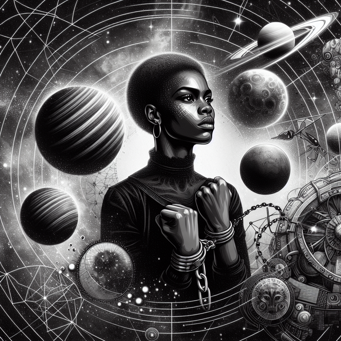 Summary
A slave named Rakam is recounting the story of her life on the planet Werel. On the Shomeke family's estate where she worked, the grandmothers have the most important role in society. They raise the children, make sure people were not hurt too badly, and protect who they can. Rakam's mother Yowa and grandmother Dosse fight, particularly over who Rakam's father is, so she doesn't see her mother much. While Dosse keeps the peace in the slave quarters, Yowa works in the House where Rakam would join her one day working for Lady Tazeu who is the wife of the plantation's owner. When she first meets Tazeu she is given a new name, Toti, the name of Tazeu's dog who had just died.
Toti is mystified by the splendor of the palace they are in. Or more specifically the beza, or women's side which the women are unable to leave. Toti meets Tazeu's son Erod who is a few years older than her. There is some issue with his father Shomeke, but Toti knew nothing of it at the time. She later learns that her father was the Owner as well. When Toti turns 14 she is given to Erod, her half-brother, as a consort and personal slave. Tazeu did not know about Toti's relation to Erod. Erod refuses to have sex with Toti, however, as he sees any sex between an owner and slave as inherently nonconsensual. Erod has a bad relationship with his father because Erod wants to abolish slavery, and talks about his ideas with Toti, who he now calls Rakam again. Rakam refuses to believe that turning over the foundation of her world, the Shomeke estate, could possibly be a good thing, and also refuses to be called a slave because she felt that undermined her value. She prefers to be called an asset, and thinks that anyone sent to other planets like Yeowe to work were slaves because they must have lesser value if they were sent away.
One day when Rakam is 16, the slaves on the planet Yeowe overthrow their owners. At the same time, the Owner is struck by a new disease from Yeowe that slowly and painfully kills him. Tazeu takes him out of his misery before killing herself. Erod, now the Lord of Shomeke, frees all of the slaves immediately and pledges his life to ending slavery on the planet once and for all. Afterwards, he flies with his closest friends, excluding Rakam, to the capital city to work in politics, opening the gates to the estate so that the slaves may leave if they wish.
That night, the other plantation owners nearby come and kill or re-enslave everyone on the estate. Dosse is killed, Yowa disappears, and Rakam is taken to another estate with a few other young women. There they are treated as consorts for the men of the Zeskra estate. One night, Erod's friend Ahas, a fellow freed slave who Erod took with him to the capital, comes for Rakam. He takes those who had been freed away to the capital city.
The City is comprised of many compounds, similar to the estates of the countryside but with no slavery. Rakam is considered a gareot, someone without any slaves, and lives with around 100 others in the compound run by the group Erod started that wants to abolish slavery called the Community. Rakam learns a trade and begins formal schooling. She also comes to resent all people who view her body as an object. Ahas is one of her best friends in the City because he sees her only as a person regardless of her past experiences. They talk a lot about Yeowe. The news shown on Werel said the world was in chaos, but Ahas claims that this is because Werel had the most to lose by other slaves revolting and that Yeowe was doing well, holding democratic elections. Rakam dreams of going there one day.
While living in the city, Rakam becomes friends with Ress, a lighter skinned woman who has lived in the city all her life and works in the Community's compound. She tries to kiss Rakam, but Rakam pushes her away because of the pain she has suffered. Ress tries to talk her into sex, but Rakam holds fast and swears off it forever, not wanting to be taken advantage of again. Rakam fills her life with reading, which Ahas thinks is self-indulgent but Rakam says it will be what she brings to Yeowe when she goes. They need libraries and knowledge of the worlds outside of themselves. She becomes a respected academic of history in her own right. A leader of the Ekumen, the intergalactic confederation of humans, comes to a talk of hers one night and they begin a professional relationship that helps Rakam learn even more. Ahas and the Community have a problem with this, but Rakam refuses to stop publishing books and papers or giving talks as she won't let anyone control her. She becomes a firebrand at Community meetings and makes some enemies by demanding equal freedom for women. Her friend from the Ekumen, Esdardon, warns her that she will be arrested soon as the country's government has just changed its laws affecting manumission status. If she doesn't get special papers, she will be considered property again and re-enslaved. He offers her a secret trip across multiple countries to one that will get her on a spaceship to Yeowe. She accepts and goes immediately.
The journey is difficult and dangerous, but she makes it safely. Regardless of ability, everyone is sent to do manual labor in the fields. Rakam discovers that the women are treated worse and forced to the fields, while the male immigrants were sent to the cities. Their skills were ignored and they were not allowed to make any decisions for themselves. Rakam decides to teach the illiterate women in the camp to read. The men were against it at first, but Rakam wouldn't let them stop her. She slowly radicalized the other women, pushing to finally get a vote in elections and to see the money they were owed by the cooperative they worked for. After getting her wages, Rakam travels to the nearest city where she eventually gets a job as a teacher. She joins another group of radical teachers trying to break the misogyny of the new system on Yeowe that privileges the chiefs of tribes instead of democratic rule.
Rakam's books from Werel are finally delivered by another member of the Ekumen, and they are gifted to the school she is working at so that the government won't tamper with them. She elects to start a publishing house and focus on the voices of women in the region. A contact with the Ekumen pushes for her to be the editor of the University's press, which she eventually accepts after he promises to keep the censors away. She connects deeply with this man, named Yehedarhed, and opens up about her past. Eventually, she is willing to be physically intimate with him in a way she hasn't been since her childhood. She helps usher in a new age of learning and freedom with the support of Yehedarhed and her work at the University.