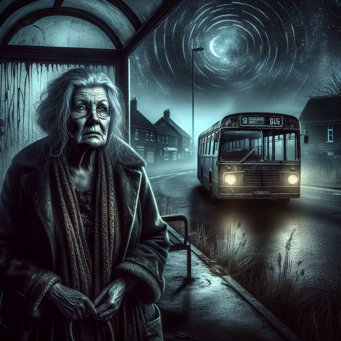 By Shirley Jackson, first published in The Saturday Evening Post.
A crotchety old woman gets off at the wrong bus stop and, to her dismay, is stuck in a town she's never heard of with strangers whose behavior is bizarre and disconcerting.
Summary
Miss Harper is an old woman who is attempting to return home from visiting Stephanie via bus. She doesn't like the bus company that she's dealing with and thinks they're constantly rude and their buses are always dirty. Miss Harper simply wants to go home to have hot tea and a bath, but she has to deal with a rude passenger and bus driver first. As she gets on the bus, she is annoyed no one helps her with her bags. Still, she took a sleeping pill for this occasion and hopes to nap all the way home. As she begins to drift off to sleep, a child bumps into her and tells her that they are running away from home. Miss Harper tells the child to go home as she dozes back to sleep, but the child says it is too late.
Miss Harper wakes up to the bus driver telling her she has arrived at her stop and that he is not an alarm clock. Miss Harper is appalled at the bus driver's rude behavior and threatens to report him as she gets off the bus. She steps off the bus and out into the rain, and the bus drives away before Miss Harper realizes she is not, in fact, at her stop. She is in a place she has never heard of before: Ricket's Landing.
Miss Harper becomes desperate as she realizes no one and nothing is around and that she is getting drenched. She sees the headlights of a truck and flags it down. The driver tells her that there is no bus stop in town and that the bus only drops off passengers once a night. He then seems hesitant to let Miss Harper in his truck but decides to do so; the driver and the passenger tell the drenched Miss Harper that they are going to take her to the old lady. Miss Harper is uncomfortable the whole ride but realizes she has no other choice.
The group arrives at an old mansion which has been converted into a dirty pub. Miss Harper realizes that the building they are in resembles that of her childhood home. Miss Harper enters, though she does not particularly want to, and the old lady allows Miss Harper to stay the night for a ten dollar rent. Miss Harper goes up the stairs and marvels at how similar this building is to that of her childhood home. The room she stays in is in the same part of the house and has the same setup, except that the closet is on the wrong side of the room. Miss Harper goes to bed, tired and confused from her sleeping pill but hoping to get home as soon as possible. As she is drifting off to sleep, Miss Harper hears a noise in the closet. She goes to inspect it and sees the snake toy that she had as a child; it is wooden but moves as if it is alive. Then Miss Harper sees her clown toy and doll, which blinks at her from the chair. Frightened, Miss Harper runs away into the darkness. She wakes up to the bus driver telling her he is not an alarm clock. She threatens to report the bus driver then gets off at the stop only to see a sign that reads Ricket's Landing.