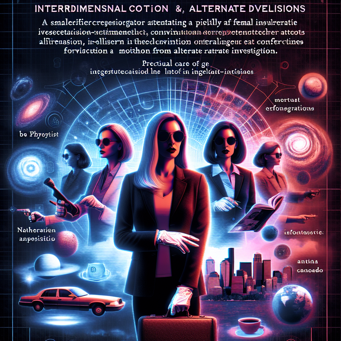 And Then There Were (N-One)
By Sarah Pinsker, first published in Uncanny Magazine.
An insurance investigator becomes the primary detective when a murder occurs at an interdimensional convention she is attending... where all of the guests are herself from alternate reality timelines.
Summary
Sarah (will refer to as Main Sarah), an insurance investigator by profession, is urged by her steady girlfriend, Mabel, to attend an interdimensional convention where all of the guests are herself from alternate timelines. Mabel and Sarah live a quiet and steady life in Seattle, Washington, with Sarah's friends all nearby and her parents living on the east coast. One of her alternate reality Sarahs is a physicist by profession and has discovered a way to communicate with all of these alternate Sarahs and for them to converge in one meeting location for a three-day convention to get to know each other. However, before the keynote event can even officially kick off the weekend, one of the Sarahs, a DJ for the event, is murdered. Main Sarah is deemed close enough to be a homicide detective for the convention board and is tasked with investigating DJ Sarah's death.
Main Sarah hunts for clues and interviewing potential suspects, the only kicker being that every guest at the convention is an alternate reality version of herself. Main Sarah has to think about how she might think about different situations and at what point she no longer relates to the other version of herself because of how differently life has shaped the two of them. An important aspect of the multiverse are its "divergence points," the points at which the lives of all of these different Sarahs begins to differ, because of something as small as a missed or attended phone call or dinner date, or things as big as career choice or relationships formed or dropped. All of the Sarahs are so similar, yet so different in so many ways; all of them are different sides of the same coin.
Main Sarah ultimately figures out that the host of the event, Physicist Sarah, who figures out how to bring all of the alternate reality Sarahs together, is the murderer of DJ Sarah. Main Sarah finds out that there is a committee of different Physicist Sarahs and the original Physicist Sarah made the scientific breakthrough and reached out to the others to help bring this convention to reality. The only life difference, divergence, between the original Physicist Sarah and the one who was the second closest to figuring out how to access the multiverse was that the original had missed out on an anniversary date with Mabel to stay late at her lab for extra research while the other had not. Original Physicist Sarah is distraught over her life and becomes convinced that it was not worth it to have been successful and made this breakthrough; because she missed her anniversary date, Mabel broke up with her and left for good. In many of the Sarahs' lives, Seattle is a city that no longer exists, destroyed by a giant earthquake that had swallowed it whole long ago. All of these Sarahs had been visiting their parents on the east coast while it happened and they had to live with the fact that Mabel and all of her friends had died in the subsequent damage. OG Physicist Sarah's life is one of them, with Mabel having broken up with her before the earthquake. Physicist Sarah collects information about all of the alternate reality Sarahs and tries to determine for herself if all of them are living lives worth living. She finds out that DJ Sarah had fallen in bad company and harbored self-destructive tendencies that caused her to push everyone that all of the Sarahs love, out of her life. DJ Sarah is estranged from her parents and does not answer calls from her concerned friends. She has also never met Mabel before. Physicist Sarah decides that, even though all of these people in DJ Sarah's life hate her, relationships can be mended and she is more willing to try to mend them rather than have to live alone in a world where none of them existed in the first place. She kills DJ Sarah in order to take her place in her timeline and leave her other one, convinced that not many would miss her over there. Physicist Sarah rationalizes her behavior and convinces herself that none of this, using the breakthrough for her own personal gain, was premeditated, but Main Sarah is astonished at how good she is at lying to herself, something that she recognizes instantly. Physicist Sarah tells her to let her go through with her plan, telling her that more good will come out of it than if she tries to turn Physicist Sarah in, where too much confusion will occur in all of the timelines. She can rebuild DJ Sarah's life. She can repair her relationships and find Mabel. Main Sarah cannot help but think of all of the iterations of reality that are created as they spoke, especially with decisions involved. In one, DJ Sarah is not killed. Physicist Sarah does not decide to kill her. Main Sarah does decide to turn in Physicist Sarah.