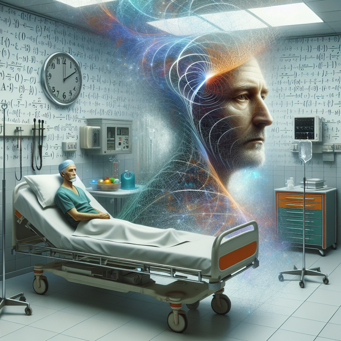 By Roger Burlingame, first published in Story.
While sick and bound to a hospital bed, a mathematician-loving office worker ponders on the intricacies of his marriage and dreams of impossible arithmetic equations.
Summary
A male office worker, named Stephen Drake, is sitting in his hospital bed. Because he is sick, Stephen thinks about the lack of responsibility he currently has as he does not have to go into the office to work. He thinks of how his fellow employees—Spelman, Miss Kraus, and the other men in the drafting room—are not independent of him while he is in the hospital. Except for Megs, his wife. Stephen hopes that Megs will not come visit for awhile. Stephen closes his eyes and thinks about how he finds the nurses at the hospital very mechanistic, especially one named Miss Thwing. He finds Miss Thwing very impassive and almost inhuman in how she talks and takes care of him. Miss Thwing walks over to his bed and asks Stephen if his pain feels easier and he says that it does. Megs comes to visit Stephen and asks him repeatedly if he feels better and he says that he loves her. Megs asks him if he actually loves her and Stephen thinks about his marriage. Stephen recalls how pale and thin Megs was when they first got married and that she never seemed to deny the intimacy that they shared. Megs was always very submissive to whatever he requested in their life and also had his children. Stephen then asks Miss Thwing for orange juice and Miss Thwing explains that he can't consume anything before his surgery. Stephen reluctantly agrees and thinks about the chemical nature of sodium and hydrochloric acid and how its reaction resembles that of his marriage. Stephen asks Miss Thwing for a newspaper, but she explains that he's not supposed to get excited before his surgery and he needs to relax. Stephen further asks Miss Thwing to leave and convinces her that he is not feverish. Miss Thwing departs from his room and Stephen ponders on the chemistry that he and Megs share. As he lies on his bed, Stephen closes his eyes and mentally slips into a dream zone to think about the philosophy of the universe—God and anti-God—and then imagines what his office space looks like. Stephen sees his co-workers—Joe Beers who Stephen believes will eventually have nothing, Ham Willink who is addicted to alcohol to quiet his brain, and Carstairs who drew futuristic drawings instead of working. Stephen talks about his job—being an architect—and that God is the ultimate architect of all of the animals and the world. However, humans found God's architecture inadequate. Stephen slips into another dream sphere and watches the stars and thinks of the complexities of the mind. Stephen begins to think of particles and equations when suddenly, doctors and nurses burst through his hospital room doors. Stephen begins to count as he is put under for the surgery. In his dream, Stephen finds himself in a room with others and someone at a chalkboard. Stephen asks the person in front of the board if they are God and the person explains they are merely the teacher. Stephen watches the teacher and the other students debate an equation of mathematics. Stephen disagrees with the teacher's methods and the teacher's concept of the square root of kappa. The teacher asks one of the other students to talk to Stephen and the student explains how the kappa root works. The teacher finishes teaching and Stephen seems to understand the equation better. The teacher tells Stephen that it was silly for him to assume that the teacher was God. As Stephen wakes up from his surgery, he attempts to return to his dream world, but feels someone standing over him. His wife, Megs, asks if he is feeling better and he says he is and tells her that he loves her.