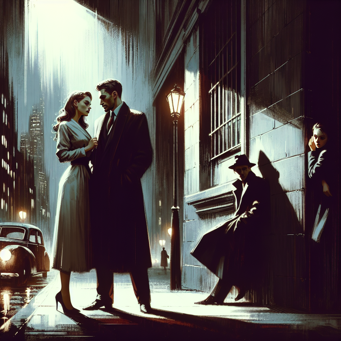 By Robert M. Coates, first published in The New Yorker.
After a man sees his ex-wife with another man on the street, he follows her home and his rage overtakes him, making him do something he regrets.
Summary
When Walter turns the corner, he sees Ann talking to a man in a black overcoat leaning against a building. They are close to one another and Walter steps back out of sight and watches them. He can't believe she left him for this man, and he waits around the corner, knowing Ann will walk by him on her way home. It grows late, but finally he hears the tap of her heels approaching and when he greets her she replies wearily but continues walking in the opposite direction. He walks up next to Ann and says her parents told him she was at the movies but he saw her with the man. He says his conversation with her mother confirmed that it was she who broke up their marriage. 
He yells at her that he is her husband but she only laughs. When he bumps into a happy-looking couple on the street, she picks up her pace and he has to speed up to catch her. At her family's apartment, she runs up the steps and Walter follows her. She isn't laughing anymore and tells him she's done and asks if he's been drinking. He denies it and she proposes that they meet in a more formal setting to talk, instead of him chasing her around. He accidentally threatens her and when she screams and moves to escape him, he grabs her neck. He shoves her against the wall and strangles her. He looks around, but no one saw him kill her and so he walks away unscathed. 
His breathing is fast and heavy and he tries to think of people he could talk to, but the only people he likes are related to Ann. He hears a police siren in the distance and watches as it turns down near her house. He resolves to walk to Frank's house, Ann's brother, but as he walks he gets very tired and he thinks of the couple he bumped into earlier and wishes he could talk to them because they are the only people who would understand why he'd done it.