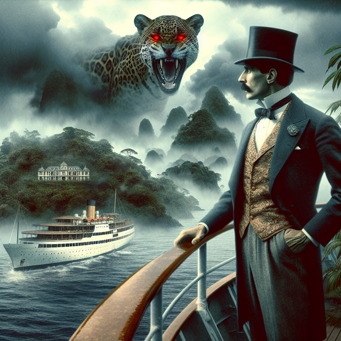 By Richard Connell, first published in Collier's.
Stranded on a ominous island and taken in by a lavishly rich gentleman, a celebrated hunter finally gets a taste of what it's like to be the prey.
Summary
The celebrated hunter Sanger Rainsford, who hails from New York, is on a voyage to the Amazon for a hunting trip. Standing on the ship-deck one night, he declares that hunting is the "best sport in the world."
"For the hunter," his friend corrects him. "Not the jaguar."
Rainsford is scornful of his friend's softeners. "Be a realist," he says. "The world is made up of two classes--the hunters and the huntees. Luckily, you and I are hunters."
The pair watches as they pass "Ship-Trap" island — a mysterious tangle of jungle whose proximity provoked anxiety in the crew all day. Though Rainsford dismisses the sailors as superstitious, his friend alleges he can feel "vibrations of evil" coming off the island.
The friend retires to bed, and Rainsford smokes a pipe on the deck. Hearing a serious of gunshots, he springs up to look over the rail, dropping his pipe in the process. Reaching after it, he topples into the water himself.
Deaf to his cries, the ship quickly leaves Rainsford behind. He ultimately decides to swim in the direction of the gunshots, which he assumes imply a human presence. He makes it to the shore of the ominous, lore-laden island, and from there treks to the massive chateau he spots on a bluff.
He knocks on the door, and an enormous man greets him with a revolver. Behind this looming figure emerges a slender gentleman, who says he has read Rainsford's books on hunting and is delighted to provide him with food, clothes, and shelter.
The gentleman introduces himself as General Zaroff, and the giant as his servant Ivan. Zaroff and Rainsford share a resplendent meal together, during which Zaroff expounds upon his singular passion and purpose in life: the hunt. He explains that he has long since grown bored of hunting even the largest, most exotic animals.
"Instinct is no match for reason," he states. He explains that, in order to preserve his passion, he had to turn to hunting the one type of being with reasoning faculties: man.
Rainsford cries out that such a thing is murder, and Zaroff chastises him for having "romantic ideas about the value of human life." He argues that "the weak of the world were put here to give the strong pleasure."
Rainsford asks how he secures his human prey, and Zaroff explains that he flashes lights giving false promise of a channel to passing ships. Deceived by the lights, these boats are promptly wrecked by rocks. Zaroff then collects the stranded men and imprisons them in his cellar, where they become part of his "training school."
Once they are trained and strong, he takes them out one-by-one for the hunt. Each man is equipped with food, a knife, and a three hour head-start. If the designated prey manages to evade Zaroff for three days, he is deemed the winner and released from captivity. No prisoners have yet won.
With his string of easy successes allowing ennui to creep back in, Zaroff has long waited for a worthy opponent like Rainsford to arrive on the island. Rainsford has no choice but to participate in the hunt.
Set loose into the jungle, Rainsrod uses his head-start to create an intricate set of loops for Zaroff to track and then climbs into a tree to rest. In little time, Zaroff arrives at the base of the tree in which his prey is hiding. Without looking up, he simply grins and walks away. "The general was playing with him!" Rainsford realizes. "The general was saving him for another day's sport!"
Going of the offensive, Rainsford sets a series of traps for his foe. One wounds Zaroff's shoulder, one takes his best hunting dog, and one kills Ivan. With this setback, Zaroff takes a break for the evening, only the slightest bit irritated by the death of his servant.
Zaroff retires to bed and is startled when Rainsford jumps out from behind the curtains. Zaroff announces that Rainsford has won the game, but his congratulations does not appease the man he hunted for sport.
"I am still a beast at bay," Rainsford says. "Get ready."
Zaroff acknowledges that only one of them will make it out of the bedroom alive: "Splendid!" he says. "One of us is to furnish a repast for the hounds. The other will sleep in this very excellent bed. On guard, Rainsford."
After an uncertain amount of time passes, Rainsford decides he "had never slept in a better bed," suggesting with this final reflection that he triumphed over Zaroff.