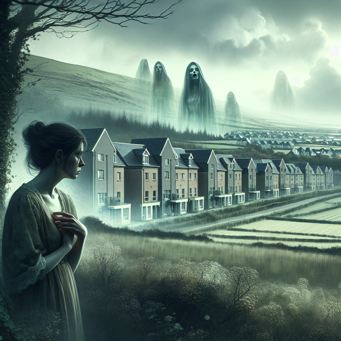 By Priya Sharma, first published in Black Static.
A woman moves into a new housing development at the insistence of her married lover but finds herself bitter and unhappy with the life she is living. Things begin to fall apart after the death of her lover's son, leaving her alone to face the consequences of her immoral love affair and an ancient curse.
Summary
A folktale from ancient Ireland describes a story of three sisters vowing to haunt and eventually destroy a chieftain of a corporation who comes to take over their land. The man, determined to own and develop the land, forces the sisters out, leaving them to bide their time and wait until the perfect moment, centuries later, to strike and destroy the corporatizing of their land. Grainne moves into a housing development called Boomtown on the same land in the rural northeast Irish countryside after Dan, her married lover and the lead developer of the site, offers her a discounted price on the home. Grainne is a writer and studies the history of Ireland, and is vaguely familiar with the standing stones representing the Three Sisters and the folklore of the region, unlike Dan who is developing on the haunted region without a clue. After she moves in, Dan and Grainne continue their affair in her home just across the street from Dan's wife and son, Kate and Ben. Grainne is madly in love with Dan and hates that their meetings are sporadic and hidden, resenting Kate and Ben for coming between her and her love. She visits her friend and neighbor, Nancy, who expresses concern about Grainne's wellbeing, pointing to her matted dirty hair, weight loss, and lack of sleep. Grainne cannot bring herself to admit that it is not guilt that has driven her to this state, but the desperation of unfulfilled, star-crossed love. She has become known as the Boomtown Bitch because of her constant bitterness as a result of the affair, which she still continues despite her displeasure with the arrangement. Everything begins to fall apart one day when Dan comes to her house with his son Ben, pretending to check in on a housing complaint. Grainne sends Ben to play with Nancy's children, and Dan enters her home and heads to the bedroom with her. They have sex and are lying in bed after, when Nancy frantically comes to the door and calls them over. When they arrive, they find Ben lying on the floor after falling from an unfinished loft high up in the house, unresponsive in a pool of blood. From then on, Nancy moves out, leaving her house abandoned along with most of the other houses in the development. Grainne becomes increasingly lonely and bitter and spends her days roaming the countryside alone. She goes back to visit Nancy's house. As soon as she enters is overcome with a darkness that leads her to pass out on the concrete floors. She wakes up with a pounding headache and heads home on unsteady legs. On the way back, three boys sexually harass her and follow her until she turns and becomes violent and ends up scaring them off. Grainne returns home and wakes up on her couch drenched in sweat to the sound of horse hooves pounding. She heads outside to assess the situation and sees a huge black horse that begins circling, closing in on her. She tries to run away but knows it is useless. The horse is an evil spirit coming to haunt her for the immoral life she has been living, representing everyone she has wronged: Ben, Kate, Dan, the residents of Boomtown, and the ancestral karmic retribution of the Three Sisters.