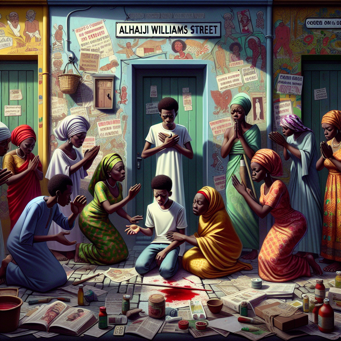 24, Alhaji Williams Street
By Pemi Aguda.
All the boys on a street in Nigeria are killed in slow succession by a perplexing and inescapable fever. The family of one boy struggles to find a way to save him from his fate.
Summary
A fever spreads through Alhaji Williams Street in Nigeria, killing the boys of each family on the street in a slow, inescapable way. The families on the street try everything they can think of—from rubbing chicken's blood on the doors (like the biblical story), to strange diets— but nothing halts the march of death. One boy and his terrified family— his mother, sister, and an aunt— watch as the fever takes most of the boys on the street, increasingly certain that it will take him, too. The boy gives up on his dream to follow in his late father's footsteps and go to the University of Ibadan. His aunt finds a man who says he can help the boy escape the fever, but to do so he has to take him away, never to be seen again. "If I die, or if I go away. What's the difference?," asks the boy. After making preparations, a teary-eyed family lowers him into what seems like a coffin.