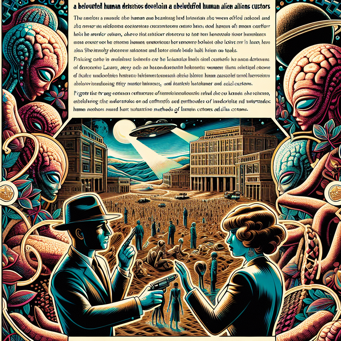 By Pat Cadigan, first published in The Magazine of Fantasy & Science Fiction.
Human detectives work to solve the mystery of who killed a human woman at an Earth-based alien embassy. They soon realize that human methods of solving mysteries come into conflict with the social customs of the aliens.
Summary
A cop works with his partner, Stilton, to solve the mystery of a woman who was killed at the Earth's first alien embassy. Humans have formed pleasant relationships with the Lazarians, who have unique social customs. Also present at the scene is Farber, the deceased woman's secretary. Her body was found surrounded by Lazarians, and she was strangled. She was very popular among the aliens and they genuinely cared for her. Her job was to understand their customs and also to interact with human pilots visiting the embassy. A pilot is present during the investigation. The Lazarians consent to using a lie detector to figure out which one killed the woman, and the device (called a viewer) is modified to fit their anatomy. Lazarians are covered by an exoskeleton that conceals their "true face", which must never be seen by another being. However, during the interrogation, they all consent to taking off their exoskeletons one by one, which humiliates them, though they understand the importance of doing so for the sake of the investigation. One cries out of humiliation. During the interrogation, every single Lazarian takes blame for the woman's death, which confounds the human interrogators. It is impossible for every single alien to have had a hand in killing her. One alien believes that Farber is to blame. Exasperated, the narrator sends Farber out for pizza, which the aliens enjoy. The woman's face keeps appearing on the device, but one specific alien's face true face registers as a combination of the dead woman's and Farber's. The pilot explains to the cop that the aliens are not lying because they believe they are telling the truth: they did not kill the woman, but the feel that they carry blame because they believe they are responsible for protecting her, which they failed to do. The cop deduces that one of the aliens did in fact kill her. Farber was involved with the murderer.