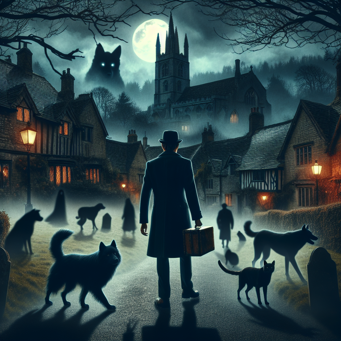 Summary
One evening, a man called Shadow Moon wanders into a pub in a rural English village. He quickly notices almost everyone in the pub has a dog with them, then acquaints himself with several of the town's denizens. The pub's landlord explains to him the dogs are mostly lurchers, a type of poaching dog, and an older couple, Moira and Oliver, joins the discussion. Shadow also speaks to a woman with short dark hair and a green sweater, taking note of how friendly she is. When the pubgoers observe Shadow's unfamiliarity of dogs, they take him to see the cat instead, showing him its mummified remains that had been left in the pub's stone wall many years ago. Oliver tells Shadow the practice of walling up animals and children in houses was meant to ensure the house would remain standing for many years, but also that this cat reminds him more of the mummified cats found in the temple of Bast in Egypt. He also mentions there were so many mummies that they were sent to England to fertilize the fields. Later that night, Shadow asks if there is anywhere he can rent a room in town, but due to the lack of vacancies, Oliver and Moira volunteer to house him.
Through the rain, the couple walks Shadow back to their house, describing some of the history of themselves and the town. As they enter Shuck's Lane, Oliver points out a massive gibbet tree, noting how it was once used to display dead bodies. Moira also mentions Black Shuck, a large folkloric dog which portends people's doom once they see it. Oliver dismisses this, but when a flash of lightning brightens the landscape, the three see something moving in the distance. Oliver faints, but Moira assures Shadow Oliver simply has narcolepsy and that shock can cause him to lose consciousness. They bring Oliver home to rest, and when he wakes, he tells them he saw the black dog following him. While chatting with Moira and Oliver, Shadow learns more about them, namely of Oliver's newfound business of drystone and how he grew depressed shortly after he committed to a relationship with Moira. Shadow also learns Oliver is hiding a deep fear. In the morning, Shadow plans to leave, but Oliver has locked himself in the bathroom. He bursts through the door, finding the man has cut himself in many places. He agrees with Moira to stay and help Oliver heal.
While picking up Oliver's prescriptions, Shadow runs into the friendly woman from the pub who introduces herself as Cassie Burglass. She suggests he sightsee around the town, recommending Wod's Hill. A couple days later, he ventures up the hill, finding Cassie waiting there for him. She tells him a bit more about Oliver and Moira's history, recounting how both of them were in relationships with other people when they began their courtship. Cassie was with Moira, but Moira eventually left her for Oliver. Cassie then shows Shadow a small tunnel in a nearby hillside, the Gateway to Hell. Upon his asking, she also tells him Black Shuck is likely a folkloric remnant of the dogs of the Wild Hunt. Cassie tries to seduce Shadow, even succeeding a bit before being interrupted by a gathering of cats. Shadow deduces the goddess Bast is still watching over him, lingering even after his previous experience with her. As she leaves, Cassie tells Shadow to tell Oliver and Moira he saw her. She wants them to know she will be waiting for them where they spoke for the last time.
When Shadow arrives at Oliver and Moira's house, he notices Oliver is doing much better. He tells the couple he saw Cassie earlier, but the two are incredulous. Angry, Moira asks Shadow how he could speak of her, stating their separation had not been on good terms. Oliver says he is not feeling well and retreats to the bedroom. Restless at night, Shadow sneaks out the house, then finds Oliver has snuck out as well. He follows him to Wod's Hill, where Oliver shows Shadow to the Gateway to Hell. Shadow realizes he had talked to Cassie's ghost and that Oliver had secretly killed Cassie out of jealousy many years ago. Oliver leads Shadow to a drystone wall within the tunnel and begins to unbrick it. Behind the stones is Cassie, decayed and rotted. Oliver then orders Shadow to get into the alcove with her body, hoping to bury him alive and keep his secret safe. He summons Black Shuck to intimidate and harm Shadow if he intends to leave. Cassie's voice urges Shadow to fight back and kill Oliver, but Black Shuck hurts him and forces him into the wall. However, Shadow manages to break free and, with the help of the ghosts of the thousands of mummified cats from Bast's temple, fight the dog. Oliver has passed out on the ground, but the dog retreats back into his body.
Passing through on a hunting trip with his lurcher, the pub's landlord finds Shadow alive, and Cassie's remains. He calls the police, and Oliver is taken to a hospital. Cassie's ghost appears one last time to say goodbye to Shadow and tell him she wasn't actually trying to seduce him, she just needed his attention. Moira and her sister arrive to pick Shadow up and see him off. They pass the gibbet tree, where Moira's sister explains a riddle that was once told about it. She says its meaning is that although death occurs, life keeps occurring through it.