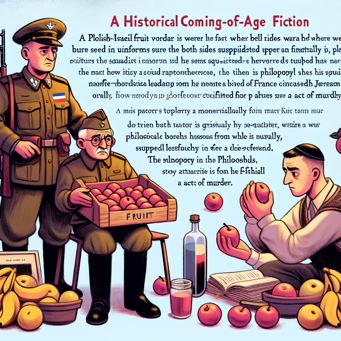 Free Fruit for Young Widows
By Nathan Englander, first published in The New Yorker.
A Polish-Israeli produce vendor's son is mystified by his father's kind treatment of a philosophy professor as he slowly learns of the murders in the man's past.
Summary
During the 1956 Sinai Campaign, Israeli and Egyptian forces wore the same France-supplied uniforms after France switched sides to join Britain and Israel against Egypt. Private Shimmy Gezer, formerly Shimon Bibberblat of Warsaw, Poland, unknowingly sits down to lunch with four Egyptian commandos. Shimmy's squad mate, Private Tendler, comes over and shoots all four of them dead. Outraged at the loss of human life, Shimmy attacks his much-bigger friend and gets badly pummeled. After the war, Shimmy operates a fruit-and-vegetable stand in Jerusalem. His six-year-old son, Etgar, doesn't understand why Shimmy gives former Private Tendler—now Professor Tendler—free produce, given how badly Tendler beat Shimmy up years ago. Every year, he learns more details about Shimmy's and Tendler's story. He learns about all the wars his father fought in, back to '48. Still, although the story of Shimmy and Tendler is Etgar's favorite, he doesn't understand why his father is so kind to Tendler. The only other customers who get free produce are young widows. When Etgar is twelve, his father tells him that he cares for Tendler because of context. When Etgar becomes a man at the age of thirteen, his father tells him a story about the big war before '48. In this war, Tendler had made it through the camps, but Shimmy says that Tendler's spirit had been killed even though he remained alive. This is why Etgar's father is always kind to him. Then, for the first time, Shimmy asks Etgar to sit down with him at the store.  Etgar learns about what Tendler saw when he was liberated from the camps at age thirteen; how he walked out of the camps, across borders, all the way to his childhood town, holding onto the hope that someone was waiting for him to come home. When he arrived, he had found his old nurse Fanushka, and her boys, who had grown up well-fed and loved, and who were now twice his size. But everything personal to Tendler was gone. Etgar still feels optimistic, since Tendler was able to survive and come home. But then, Shimmy tells him, Tendler had gone outside to take a piss when he heard his nurse, to whom he so vulnerably told his story and told about his pain, plotting to kill him. She was worried he would take everything she and her family worked so hard for. In that moment, Tendler dissociated and decided to become a philosopher. He returned to the house and pretended to have heard nothing, and he savored a joyous celebratory dinner in his old home. Afterwards, Fanushka put him to bed. She treated him like the master of the house and kissed him goodnight. But Tendler stayed up, waited until the nurse fell asleep, put on his suit, and shot everyone in the house.  Etgar is horrified by the ending of the story, calling Tendler a murderer. He complains that his father always defends Tendler. But Etgar's father replies that one can never know what they would do in another's shoes, and asks who they are to decide who should die. On that day, Etgar, too, becomes a philosopher. He doesn't finish school and continues to work at the produce stand. He believes he understands how Tendler could have done what he did, and he still gives Professor Tendler free produce, even after his own father has died.