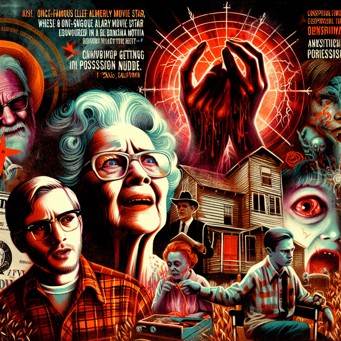 Summary
Filmmaker Alan and his tech assistant Mark leave LA to go to Texas to interview Jennifer Drummond. Jennifer Drummond was eighty years old now but was a one-time movie star. She is known for her role in Lionel Teller's 1970 _Blood Savage. _The film was a cheap thrill and by no means high quality. The fans of the film raved over one scene. That scene is Jennifer's nude barn scene. In this scene, Jennifer portrays a woman getting possessed. Fans of horror claim it to be one of the best possession scenes of all time. Some conspiracy theories have circulated that Drummond was possessed, though none have been corroborated.
They begin the interview. They start with an easy conversation about Blood Savage and Jennifer's involvement. Jennifer recounts how she became acquainted with Lionel, the director, through a mutual friend. She was cast in the movie the same night that she met Lionel. She mentions that Lionel did not talk about Satanism right away. They shift to a conversation about her nude scene. She describes Lionel's fascination with Satanism and the rituals he would force the crew of the movie to go to. She remembers the film's leading man Jake McDonell quitting the movie after one of the Satanist rituals. He believed something had entered the house where they were conducting the ritual. Lionel convinced him to return to the film. Jennifer says she did not believe anything had happened then.
Upon filming the ritual scene in the movie, Lionel wanted to use a real ritual for authenticity.
Dan asks if Jennifer is aware of the conspiracy theories about the movie. She says she is not. Dan is not necessarily convinced but explains to Jennifer that some people believe she was truly possessed. Jennifer says that this is true.
Dan wants to continue but both Mark and Jennifer insist they break for a few hours for lunch. Dan and Mark go for lunch at a local bar. Jennifer stays at home to rest.
At the bar, Dan and Mark get into an argument. Mark feels Dan is exploiting Jennifer, who is obviously mentally ill. Dan disagrees. Dan feels offended by Mark's comments and is jealous of the job Mark has landed after this project. Mark goes back to the house early; Dan stays to finish his food.
The bartender approaches Dan and asks if the duo were there for Miss Drummond. He says he overheard their conversation. Dan says yes and that he and Mark were there to interview her. The bartender did not know that she was ever in the movies. The bartender said he thought they may be in town because she was starting up her services again. The bartender says he better not talk about it after Dan presses him. Dan convinces him that he is trying to get the world to love and appreciate Jennifer. The bartender, who is called Tom, obliges.
Tom explains that back in the 1970s Jennifer and Lionel, her alleged boyfriend, would hold a religious service outside their house. Tom explained that he did not know why people went other than that they had an urge to go. At the service, they would see a bright silver light illuminating from Miss Drummond. In the center of the light would be Miss Drummond or a non-human figure. Tom could not remember what would happen after that. He says it is possible that nothing else happened. Tom remembers that there would be fewer people leaving the service than people who arrived. Tom expresses that people loved Miss Drummond and became jealous of Lionel. The townspeople murdered Lionel in nineteen seventy-five or nineteen seventy-six.
This was news to Dan. Dan wonders why no one had ever heard of this. Dan asks why Tom revealed this. Tom tells Dan that no one has set foot in that house since Lionel was murdered, so it must mean that Miss Drummond has something planned. Tom says that he is not worried about Dan telling anyone because anyone who has ever seen the silver light has never left the town. Dan leaves and goes back to Miss Drummond's house.
He smells a rotting smell and finds Mark crying. Jennifer said that Mark accused her of being mentally unwell so she had to show him something. Mark tries to get Dan to leave and Dan almost obliges, but Jennifer insists that they finish the interview.
Jennifer tells her story about how after her possession, power-hungry Lionel followed her. She expresses that Lionel fed the demon and that people in town loved the demon (whom they thought to be Miss Drummond). Jennifer expresses that Lionel's documentary about Jennifer's demon is buried in the nest. Jennifer says after Lionel was gone she managed to starve the demon and that it was rotting in her body. Dan wants to see it. Jennifer takes him into the nest below the house and transforms him into a rotting demon. Dan begins to uncontrollably worship the demon while Jennifer tells him not to pray to it. There are faces on the wall making terrible sounds as Dan films Jennifer/the dead demon dance.