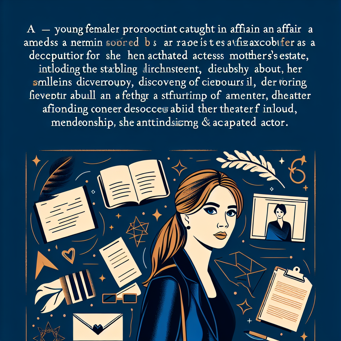 By Nadine Gordimer, first published in The New Yorker.
The daughter of a recently-deceased actress discovers that the man she thinks is her father may not be—and that she might actually be the offspring of a highly acclaimed actor who just so happens to be in town.
Summary
When the actress Laila de Morne dies, the responsibility of managing her estate falls to her daughter, Charlotte. Growing up, Charlotte always felt much closer to her father, who divorced her mother when Charlotte was four. Despite feeling awkward about seeing to his ex-wife's estate, his love for Charlotte motivates him to partake in planning for a memorial service and handle the other logistics in taking care of his ex-wife's death. Charlotte assumes the task of going through Laila's apartment, aided by a friend from work and a civil-rights lawyer with whom she is beginning an affair, flirting as they sort Laila's things. Movers come for the furniture in the apartment, and Charlotte expresses annoyance when she finds a number of empty boxes left behind—one containing paper, including a letter bearing her father's handwriting. Charlotte reads the letter and learns additional details of her parents' divorce, including that she might be the product of an affair Laila had with a fellow actor named Rendall Harris. However, Charlotte's father had always maintained that Charlotte was his own, and apparently had very much wanted to be awarded custody of her, though custody ultimately went to Laila. Charlotte goes into shock at this information and spirals in her thoughts for days afterwards. The civil-rights lawyer whom she is involved with, Mark, thinks she should either tear up the letter or get a DNA test. Charlotte soon discovers that Rendell Harris is in the city for the season, directing and acting in a series of avant-garde plays. She begins attending the plays in which Harris acts, always sitting in the middle of the second row. One night, some actor friends of Laila's invite Charlotte to get drinks with them, and she ends up having a conversation with Harris. He invites her to get a meal on a Sunday and sit beside him to watch one of the plays he directed. The two begin a friendship, and Harris invites Charlotte to cast gatherings and other meetings. Charlotte never senses that Harris desires a sexual relationship with her, and she fancies that they have a different kind of connection. They go on a short trip together, during which they grow even more emotionally intimate. As she grows closer to Harris, Charlotte grows apart from her father—but then she invites him to see a Rendell Harris performance with her. Afterward, Charlotte introduces Harris and her father, finally revealing to Harris that she is the daughter of Laila de Morne. Charlotte drives her father home and they embrace in the street.