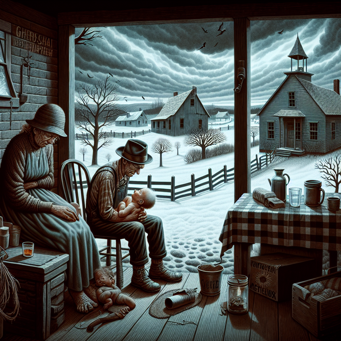 By Meridel Le Sueur, first published in Prairie Schooner.
A married couple tries to make ends meet for their hungry and sick children in the midst of the Depression but soon realize that sheer willpower cannot save them from the ruthless winter.
Summary
Jim and Mary are a married couple living in a rural area in the midst of the Great Depression with their three children- a sick baby, and two older children named Michael and Ruth. The baby has been sick for several days and they have run out of food. Jim feels defeated and sits in the bedroom, staring out of the window hopelessly, as Mary tries to nurse the sick and hungry child back to health. Eventually, Jim gets up to head to town. Mary accompanies him and they attend a meeting for Seed Loans. Both Jim and Mary give speeches encouraging their fellow farmers to survive until spring and to demand what is due to them for themselves and their children. Mary is able to sell some sacks of wheat to get some dinner, and makes plans to return the next day for hay. The couple are feeling energized and playful with the victory of having secured supper for their children as well as the success of the Seed Loan Committee meeting. They drive back home from their trip to town and immediately recognize something is wrong as they pull up. They enter the house and the sick baby is dead. Mary holds the child tight, closes their eyes, and lays the infant in a cradle. She prepares dinner for the family and puts her children to sleep. She then heads to bed, crying in Jim's arms.