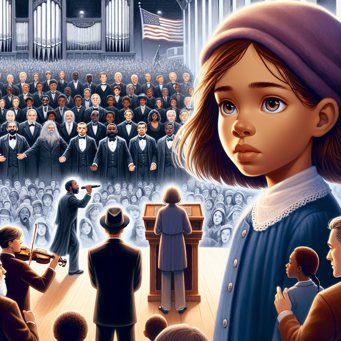 Glory, Glory, Hallelujah!
By Martha Foley, first published in Story.
A young white girl takes on responsibility for repaying Black people in America back for their suffering under slavery after hearing a gospel choir sing.
Summary
Emily is the granddaughter of a Civil War veteran living in Boston when she hears a Black gospel choir performing songs at a school assembly. When she hears the choir sing their gospel songs she is struck with an urgent sympathy for all Black people and their suffering under slavery. That day she makes it her mission to defend their race, as reparations for their suffering. At school she tells people to use the word "colored" instead of racist slurs. At home, her brothers are discussing an upcoming prize fight, saying that the Leaping Leopard, a white fighter, would most definitely destroy the Black Shadow, a Black fighter. Emily takes personal offense at this and makes it her mission to support the Black fighter and defend him in any of her brothers conversations about the fight. She even makes a bet with her brothers that he will win. Eventually she goes so far as to write a letter to the Black Shadow letting him know she is praying for him. He writes back a thank you letter and says he will keep her letter in his glove during the fight for strength and good luck. Emily's parents find out and her mother is furious that her daughter has corresponded with a Black man. Her father says he is glad Emily is not prejudiced racially, but that she must never write to a stranger man again. The fight rolls around on the Fourth of July and everyone in her family is celebrating. It is the biggest holiday other than Christmas, and the energy at Emily's home is high. She eagerly awaits the news from the fight to come, and sings gospel songs under her breathe as a prayer for Black Shadow's victory. After two hours, the newsboys come calling out the results of the fight: a surprise knockout in the first round by the Black Shadow, securing his win over the Leaping Leopard. Everyone is amazed, but Emily feels proud believing that he won because of her prayers and letter.