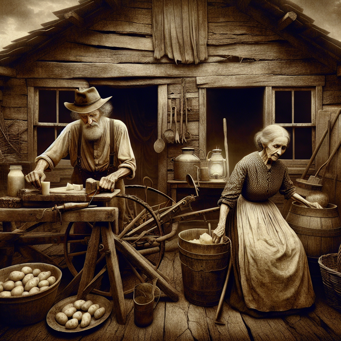 By Leo L. Ward, first published in Story.
An elderly couple argue over their farm and house labor. When they agree to switch responsibilities, they must confront their obstinacy, strained relationship, and most significantly, exhausted old age as they struggle to complete their tasks.
Summary
Nate and Sadie Heming, an older married couple, argue about house chores. Sadie tells him to work the plow on the potato fields, but Nate tells her that she is driving him to his grave with the hard labor. When Sadie declares that she will scour the plow herself, Nate lets her go on ahead, smiling because he believes she will fail. Sadie tells Nate to go inside the house and do the churning, and to not stop until the butter appears. She also tells him to cut up the potatoes, milk the cow, and make his own dinner.      Nate goes into the house to start and Sadie begins using the plow. Nate quickly bursts out of the back porch door in frustration and tells Sadie he will plow outside. Sadie grins and laughs, and Nate tells her she can do her own churning and he won't slave for her. He begins to work on the plow in a furious effort, noticing the bad job Sadie has done. Sadie works on preparing the potatoes for dinner, feeling tense. In the evening, she sets the table and goes to fetch Nate. The horses on the plow stop when they hear Sadie, but Nate shouts and slaps at them so they can continue. However, they stand still in exhaustion. Sadie tells Nate he should be ashamed of his stubbornness. Nate continues to shout and slap at the horses, and they suddenly begin to move forward. They begin to go faster as Nate continues shouting louder. When they turn a corner, Sadie hurries forward and grasps one of the reins, making them stop. Worried now, Sadie tells Nate to come inside and that he'll make himself sick with his work. Nate begins to cry and flings the lines of the plow from around his neck toward Sadie, striking her cheek. Sadie unhitches the horses without saying anything.       When they walk back inside for dinner, Nate says he doesn't want any of her supper and walks to the bedroom. Sadie eats lightly and clears the table, hearing Nate undress tiredly as she cut potatoes in the kitchen. Sadie hears Nate's loud and labored breathing and walks to the bedroom. She watches him sleep and begins to cry. Eventually, she blows out the light of the kitchen oil lamp and heads to the bedroom.