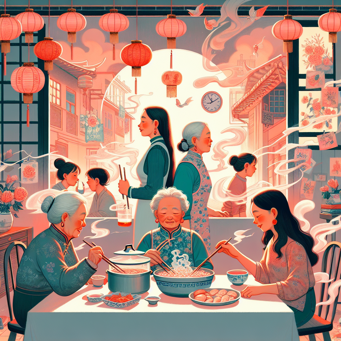 By Laura Chow Reeve.
In San Francisco, a Chinese grandmother teaches her granddaughter how to pickle the memories she no longer wants to carry with her, much to her daughter's chagrin.
Summary
Katie is a half Chinese, half-white girl who lives with her mother, Anne, and her grandmother, Popo, in San Francisco, California. Popo teaches Katie how to pickle the memories that she'd like to forget. Anne gets angry when she sees what Popo has taught her daughter; she tells Katie that she should hold onto all memories, including the painful ones. Katie asks for examples, and Anne tells her about all of the hard memories she's held onto all these years. She tells her about Katie's father, whom Anne had an affair with, and her husband, who left for China so that Anne wouldn't have to see him die. The years pass by. Popo loses her memory, while Anne succumbs to cancer. Katie continues bottling up memories: she bottles up the painful memory of the boy who took her virginity without a care, as well as that of the men who leer at her on her way home. Eventually, Popo dies too, and Katie is left with all of Popo's pickled memories. She opens them up and they swim up to her, surrounding her. She sits in her old house, wishing that she could speak to the mother and grandmother that left her behind.