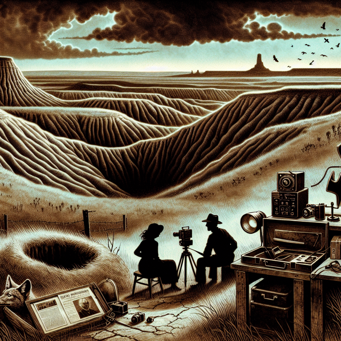 By Laird Barron, first published in Occultation, Nigth Shade Books.
When a pair of scientists studying the Badlands observe strange behavior in nearby animals, they too begin to fall under an evil influence that turns them against each other.
Summary
Two scientists, a man and a woman, are staying in a field observatory out in the Badlands for six months to observe mysterious behavior in the wildlife. The land also happens to be the killing grounds for a cult called the Family, who used an area the scientists call "Site 3" for burials. The scientist's history together as lovers makes the environment bitter and awkward, and the man often leaves for hours at a time to set up cameras and catalog data outside. He discovers an abandoned coyote den that seems to be a forbidden place for the animals. As he explores further into Site 3, his female companion tells him about mysterious voices from the bushes that knock on their door in the middle of the night. She has an impossible encounter with wasps that crawl over her but fail to sting her, and also finds an abnormally large ram's horn that seems to induce sexual arousal for those around it. After this discovery she and the man have sex, only for him to be woken by the mysterious knocking and voices in the middle of the night. Although he locks the door, in the morning she finds him asleep with the hatch wide open. The two discuss the cult that was there before them, the Family, which the man claims to have seen footage of. The next day, the woman brings up video of the coyote den and what appears to be a filthy human crawling out of it. He convinces himself it was actually a coyote, and calls in to his supervisor to warn that his partner may be losing her mind. Over the next few days he feels himself growing weaker, maybe with illness, and ventures farther out into the ranch. He hallucinates that he is following a coyote and encountering members of the cult, but when he wakes he realizes that the woman has been poisoning his water.  He goes back to the observatory to confront her, but is too weak to provide much resistance. He recalls their brief love affair that began after a different observation mission in the Sierras, after which he had given her a dog and then abandoned contact with her completely. Now, she throws acid in his face and burns one of his eyes out. In rage and pain, he hits her so hard that he fractures her skull before passing out. When he wakes, she's still passed out. He tries to call for help, but the communications are down. He passes out again and wakes to the sound of footsteps outside, calling for him to open the door. When they finally leave, he makes his way outside and sees the entire hatch has been torn apart and scattered outside, and his companion is missing. He follows a trail of her blood to the abandoned coyote den and slips inside, where he feels her put her tongue in his ear. A young coyote ventures near the den but smells the death lingering around it, so it runs away.