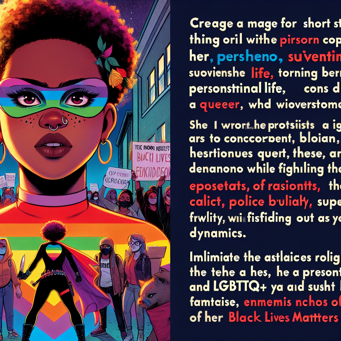 By L.L. McKinney.
When her civilian and vigilante superhero life collide, a young girl must decide whether to risk her life for her girlfriend's racist father who repeatedly threatens her own.
Summary
Ari and Candace began dating two years ago, and while Candace's parents are fine with it, Ari's dad, Mr. White, is less than pleased. One night, Ari plans a dinner for Candace and her dad. When Candace arrives wearing a Black Lives Matter shirt, Mr. White, who's a cop, voices his racist thoughts and the dinner falls apart. Later, sitting on Ari's couch, Candace explains that she can't make herself smaller just for Mr. White's own comfort. Ari begins to cry because she's upset that her dad is such a bad person. Suddenly, the TV lights up with a news alert: a local demonstration protesting an officer-involved killing of a black man was interrupted by police and now storefronts have been smashed. Candace leaps up from the couch and Ari agrees to cover for her. Candace, using her supernatural ability to fly, also doubles as a local superhero called Freefall.
She jumps out the window, puts in her earbud that doubles as a comms unit to Ari, and flies to a hidden backpack with her superhero suit. Once she's suited up she heads straight for the protests. As she descends on the chaos, a line of cops whips around and threaten to shoot her. Although she can fly, she's not bulletproof. She recognizes the man issuing the threats as Mr. White. As they count to three, a huge explosion goes off at a nearby bank. In her ear, Ari tells Candace that there have been a series of bank robberies that use the protests as a cover. Candace enters the bank and hears three or four robbers debating whether or not to kill the cop they found. The cop is Mr. White. They start to beat up Mr. White and Candace jumps out of her hiding place and tries to defend Mr. White. In the process, she gets shot and the world goes dark. A few days later, Candace's arm is in a sling, but other than that she's alright. Mr. White, however, hasn't woken up yet and is in the hospital. Candace goes with Ari to visit Mr. White and while Ari's getting coffee, Mr. White wakes up. He realizes that Candace is Freeform and thanks her for saving his life. Ari comes back in and Mr. White apologizes for his racist behavior. She makes him promise to keep her identity a secret, and that his apology will be more than just empty words.