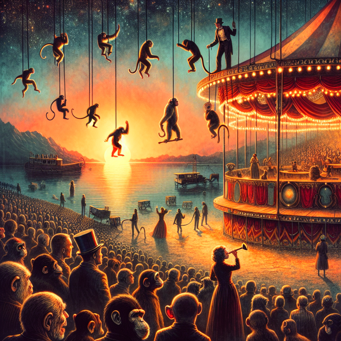 26 Monkeys, Also the Abyss
By Kij Johnson, first published in Asimov's Science Fiction.
A middle-aged woman leads a traveling circus act through the Midwest featuring 26 monkeys who climb into a bathtub and disappear and then reappear on her bus after the show. The impending death of one of the key monkeys causes her to wrestle with the meaning of life.
Summary
In the Midwest, Aimee, a middle aged woman, leads a traveling circus act consisting of 26 monkeys. In the final act of each show, the monkeys climb into a suspended bathtub. When the final monkey, Zeb, climbs in and hums, a flash of light emits onstage and the bathtub falls, revealing nothing inside. The audience has no clue where the monkeys go; neither does Aimee. Since purchasing the monkeys three years ago for a dollar at the Utah State Fair, Aimee has tried to figure out where the monkeys go when they vanish, but her efforts are to no avail. At the end of each show, they appear back on the bus, holding souvenirs and tiny trinkets from places all over the world. 
Aimee constantly tries to find a reason for their disappearance, unable to accept there may be no reason or explanation for their disappearance at all. She equates her struggle to explain the monkeys with her struggle to explain life's spontaneity. When Aimee discovers that Zeb is about to die, she supposes that the circus act will be unable to continue, believing that Zeb is the catalyst for the monkeys' vanishing. Struggling to process Zeb's impending death, she simultaneously struggles with the meaning of life. Aimee perceives the circus act, her vague relationship with her lover Geof, and her life as temporary and meaningless. While Aimee tries to reconcile the monkeys' disappearance with Geof, he points out that perhaps the real question lies in the monkeys' reappearance. Geof notes that the monkeys choose to reappear because they all want to come back home.
At his last performance, Zeb does not participate in the bathtub act. Rather he sits while watching the rest of the monkeys climb in. Another monkey, Pango, sounds off in Zeb's place and the monkeys disappear. The show goes on. After the show, Zeb passes away. Six weeks after his death, Aimee sells the show to a man with the same empty look in his eyes as she had when she first bought the show. Three months later, at Aimee and Geof's apartment in Bellingham, they find Pango in the kitchen pouring herself orange juice. Giving her a pinochle deck, they send Pango back to the bus and back home.