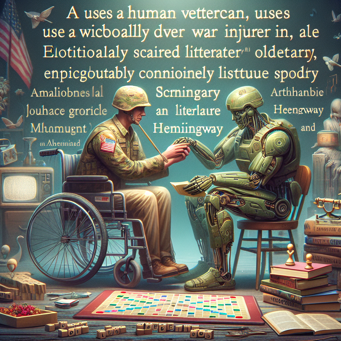 By Karin Lowachee, first published in Lightspeed.
In the far future, a human veteran adopts a war soldier, developing an unlikely friendship that helps each of them cope with the trauma of combat.
Summary
Tawn is a veteran who suffered a war injury and is now confined to a wheelchair. He lives in an ambiguous American town in the far future. During that same war, the government used androids as soldiers in place of humans; once the war ended, the androids were left without anywhere to go, many of them emotionally scarred and stigmatized by the human world. Despite his mother's protestations, Tawn decides to adopt one of these androids, Mark, who is known by the android psychologists for being so traumatized to the point that he does not speak. Although Mark is distant at first, he bonds with Mark gradually over activities such as literature, Scrabble, and walking in front of the lake. Tawn refuses to speak, but he and Mark communicate by forming words using Scrabble tiles. Tawn's neighbors in his suburban town are ill at ease with Mark in the vicinity, but Tawn refuses to abandon his friend. Mark enters dark spells from time-to-time, triggered by storms and rains, but for the most part, he becomes more stable as he spends time with Tawn. One day, Tawn's overbearing mother makes an unexpected entrance during the storm. Mark misperceives Tawn's mother as a threat, which culminates in him throwing her out the window of Tawn's bungalow. Although Tawn's mother is barely injured, Mark is sent back to the hospital to be monitored. Once Mark is no longer seen as a threat, he is discharged. Now, they are both on probation: if Mark missteps, he will be deactivated, and it is Tawn's responsibility to make sure that doesn't happen. They reenter the home, Tawn hopeful that things will work out.