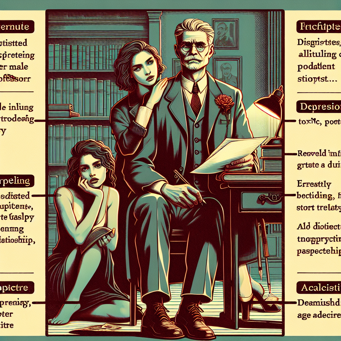 By Joyce Carol Oates, first published in Esquire.
A college girl becomes her professor's mistress and moves into his home with his wife and children. After she becomes pregnant, the wife is pushed to make a tragic decision to escape her crumbling marriage and protect the young new mother.
Summary
A young college girl, Dorie, falls in love with her neighbor and professor, Mark Arber. Mark is an older, well established literary critic and novelist, known throughout the student body as a genius, highly revered. In addition to, or perhaps as a result of, her love for Mark, Dorie finds herself obsessed with Mark's wife, a Pulitzer Prize-winning poet named Barbara. One day, Dorie has been waiting for Mark to show up to his office for an hour so that she can show him some poems, and ultimately spend time with the man she has become enchanted with. He arrives late and in a poor mood. At some point, Mark's hand accidentally touches Dorie's, and this simply act of accidental intimacy prompts Dorie to confess her love for him.  After this incident, Mark takes the girl in, bringing her back to his home at 1AM that evening. Barbara has been waiting for him to return, and has fallen asleep in the living room. He wakes her up and announces that Dorie will become the family's housekeeper, babysitting the couples' three children and keeping the home clean in exchange for room and board. Barbara immediately understands what is happening, and reminisces on times in the past when Mark has been physically abusive and unfaithful. As Dorie settles in, Mark relies more and more on her rather than his wife. Barbara feels increasingly isolated and distraught over the young girl who has essentially replaced her role in her husband's life. At the height of this isolation, Dorie becomes pregnant, and Mark does not attempt to hide it from Barbara. In fact, he requests that Barbara take Dorie to an appointment for an abortion in Boston, because he will be gone to Chicago for a prestigious academic conference he says he cannot miss. Barbara confronts Mark, asking him if he would like a divorce and questioning whether he has enough courage to do so. Mark claims that he does not like disruptions in his life, and Barbara eventually agrees to take Dorie.  Upon their arrival in Boston, Dorie and Barbara's relationship seems to shift, and Dorie feels as if they are now fulfilling a mother-daughter role. Barbara comforts Dorie and tells her not to worry about the abortion. She drops Dorie off at a hotel that night before the appointment in the morning, and then leaves the girl alone in the room. She drives across town to a motel called the Paradise Inn and overdoses on sleeping pills. Mark believes she does this so that Dorie has the opportunity to become his wife, therefore allowing the baby to live rather than following through with the abortion. In the wake of her death, Dorie ends up giving birth to the child, a baby girl she names Carolyn, and marrying Mark to become the third Mrs. Arber. Mark continues having a successful career, although their life together becomes increasingly disheveled, and Dorie finds herself crying in the middle of dinner parties, to the disappointment of her entire household and guests. Ultimately, Dorie becomes deeply dissatisfied with her life as Mark's wife, and is unable to accept the truth of her reality: she is inadequate replacement for Barbara, and, despite achieving everything she had dreamed of for so long, she is still miserable and unhappy with the person she is.