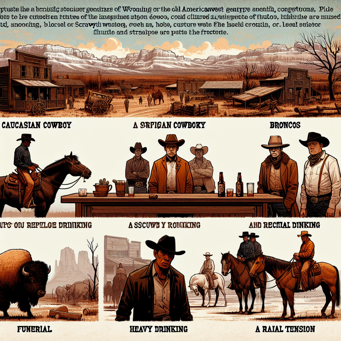 By John Sayles, first published in The Atlantic.
Blood, sweat and castrating broncos. A white East Coaster doesn't know what life is like for Wyoming cowboys and part-Indians until he's lived it for one day.
Summary
After hitchhiking from New Jersey to Wyoming, Brian inadvertently spends the night in the corral of  "Cody Sprague's Wild West Buckin' Bison Ride".  Awakened in the morning by Cody's lone and scrawny buffalo Ishmael licking his face, he is pranked by Cody, who pretends to shoot him with a Coke bottle. Cody laughs at Brian but quickly makes friendly overtures. Lonely and facing the imminent failure of his pitiful roadside attraction, Cody tries to prolong Brian's visit. Brian takes his leave and starts walking through desolate brushlands towards the highway to continue his trek to California. He is picked up by a pickup truck driven by J.C., a small-time rancher who enlists him into a day of hard work gelding stallions.  J.C. and his ragtag crew are all part Indian to varying degrees except Bad Heart, a full blooded Sioux.  All of them are nursing hangovers and after eating a boiled beef lunch prepared by J.C.'s sturdy wife they get to work.  Gelding stallions is physically demanding and exhilarating: each horse is lassoed by the legs and heads, pulled down and pinned while it's testicles are yanked out with the "masculator" tool.  
As the day progresses the bronco busters — tired, bruised and bloodied — take longer breaks and start drinking whisky.  J.C. explains to Brian that gelding is necessary to prevent inbreeding. The crew bonds except for Bad Heart, who is surly and rarely speaks, only deigning to remark that Cody Sprague "is an asshole" and "fuck religion".  
J.C. convinces his wranglers to continue drinking with him after work. They start driving to find an open bar, but turn around when they remember there is a wake happening for Honda Joe, a recently returned decorated Vietnam veteran dead from a motorcycle crash.  The wake is being held in the bereaved mother's trailer.  Everyone including Brian goes in, except Bad Heart, who declares that he never liked Honda Joe.  The wake is interrupted by loud whoops which turn out to be Bad Heart riding outside the trailer on J.C.'s wildest bronco which drags something tied to its tail.  They give chase to Bad Heart in jeeps and when the horse tires and throws him off they discover it is pulling the hide of Ishmael (Cody Sprague's buffalo) which Bad Heart has killed with a stolen knife.