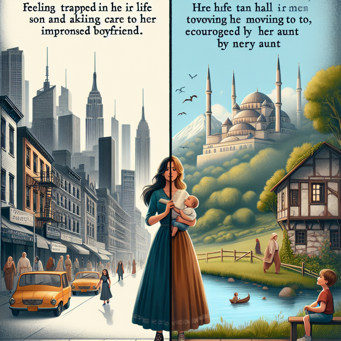 By Joan Silber, first published in Tin House.
A young woman feels trapped in her own life, bound to her convict boyfriend and young son. The woman's worldly aunt encourages her to move away and start over.
Summary
In her youth, Kiki traveled to Turkey, took up a lover, moved to his farm, and then left him to return to New York, all before she was thirty. Her niece Reyna is different, bound to New York and her boyfriend Boyd, who is currently in prison. While she babysits Reyna's child, Oliver, Kiki proposes that Reyna move to another country and start over. Reyna ignores her and asks why Kiki left Turkey. "It was time," she says. During her visit to see Boyd, Reyna learns that his ex plans to visit in a few days. She's jealous, but Boyd assures her there is nothing to worry about. Boyd's occasional charm keeps Reyna in the relationship. When he gets out of prison, a desperate Boyd enlists in a cigarette smuggling scheme that will mean he breaks his parole. Kiki does not like Boyd and the role he plays her niece's life, but Reyna does not agree with Kiki's carefree lifestyle. She knows she will agree to help Boyd break the law, even though she also knows what kind of life she'll give up if she chooses him.