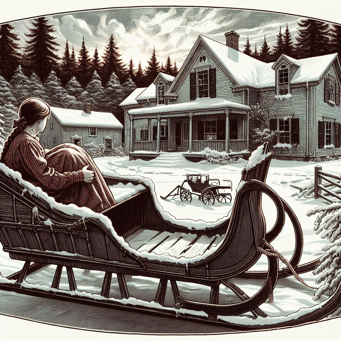 By Jean Stafford, first published in The New Yorker.
During a Northeastern winter in their new isolated country home, a woman slowly succumbs to the gaslighting and manipulation of her husband.
Summary
May and Daniel buy a home out in the country at a doctor's behest because Daniel still needs time to recuperate after living in a sanitarium for a year. There is a large, weather-beaten sleigh in the yard that is so unwieldy that they decide to leave it there until they can figure out how to get rid of it. At first, they elect mostly to stare at it in silence, something which irks May who would rather ponder out loud its potential histories and merits. But, at the Swiss doctor's continued insistence, the pair hide themselves away from the world.
For the first few weeks in the new house they were quite happy exploring the countryside and resting. May notices that Daniel will sometimes mentally slip away and be gone somewhere she can't figure. As winter comes and Daniel begins writing a book, May misses the bustle of city life but feels shame for pressuring Daniel to live a more exciting life while he is still recovering. Their relationship begins to deteriorate, to the point that they truly no longer speak but only stare at the sleigh much like they did when they first moved in. May begins to spiral, becoming depressed and desiring to leave the countryside so she can feel complete and live life again away from her decrepit lover.
After a particularly bad fight, May begins to fantasize about a lover who will care for her and treat her well. No matter how much they talk, May sees that Daniel is in his own world and tells her that she has done things or feels things that she never has. By early spring, Daniel now insinuates that May has a mental disorder of some kind. She clearly sees her imagined lover sitting in the sleigh immediately after this. That night, she sleeps deeply for the first time in months. She dreams of her lover complimenting her and telling her he loves her. She awakens to see Daniel looking over her, apologizing for not being himself after the sickness and asking her to make him a cup of tea. She cries and lies, saying she is happy to see him. Going downstairs to light the fire for him, she stares at the sleigh and sees a local cat climb onto the seat and curl up. Realizing she won't see her imagined lover again, May leaves the house and climbs into the seat beside the cat, contemplating how she could live the rest of her life.