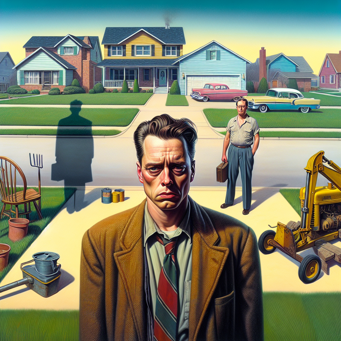 A Day In The Life of the Boss
By "Hugh Geeslin, Jr. ", first published in The Georgia Review.
A man who has given everything to his friend's farm equipment business fends off onslaughts personal, emotional, and professional even as the real threat eludes him completely.
Summary
Mason hates his awkward body. Specifically, he hates the fact that he cannot correct it as he would a mistaken invoice. He cannot be like Gladstone Mott, his confident, healthy, beautiful boss. Life dissatisfies him, even when he counts his possessions. He even pities his daughter, Lisa, who looks like him, not her mother. On the way to work, dread rises into his throat. Shaw, a rival, is resigning today, and although Mason single-handedly built the company into a giant, he does not want to leave Shaw's inevitable accusations unanswered. Shaw meets Mason in the office. Shaw despises his sallow-faced boss, and he, too, is dissatisfied with his own alcoholism, his loneliness, his laziness, his life. Stories from the past flit through Shaw's head, most of which involve his hatred of Mason. One, a stream-of-consciousness dive into the life of a coworker named Spires, is especially vivid. Concurrently, Mott and his wife fight about Mason's value. The boss sees his value; Cherie doesn't. The dreaded meeting begins. Shaw explodes immediately, laying into Mason with unexpected ferocity and blaming him for snafus galore. Mott is unconvinced and orders Shaw to resign, but after both men leave, he wonders: Was there a grain of truth in Shaw's words? In his wife's? For his part, Mason drives home satisfied, happily ignorant of the danger to his job.