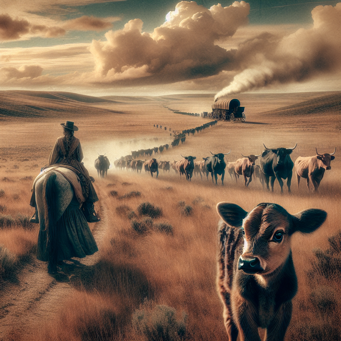 By James Agee, first published in Harper's Bazaar.
After watching a cattle drive on the Great Plains, a cow tells her young a grim tale of the cattle who get sent to factories to be slaughtered and the one cow who escaped.
Summary
A young calf on a ranch in the West watches a cattle drive in the distance. Fascinated and curious, he and two other calves question his mother about where the cattle are going. The mother, who worries that her son will one day leave and be slaughtered, decides to tell them an old story that has been passed down in her family for generations about the only cow ever known to have come back from a cattle drive. This cow was herded across the plains and stuffed in a train car with his companions. On the train, they were packed in so tight that they couldn't move. Without food, sleep, or water, they traveled for several days until they were let out into pens. Compared to the journey, the pens were heavenly: full of bountiful food and water and thousands of other cows. In the distance loomed several big factories with awful stenches, but the cows don't think twice about them. A few hours later, the cattle were herded towards the factories and put on individual ramps. At the top of the ramps, men with hammers hit the cows on the head. The cow who escaped was one of the few who survived this blow, waking up several minutes later as he hung upside-down on meat hooks while other workers cut into his hide with knives. With all his strength, the cow freed himself from the hooks and charged out of the factory. The surprised workers attempted but failed to restrain him. The journey back to the ranch was long and exhausting, but guided by some divine sense, the cow followed the train tracks back and arrived back home, where he used his dying breath to relay the tale in an attempt to spark resistance and free the cattle from their human overlords. This story has become something of a legend to the cows on the ranch. The mother cow says she doesn't believe it and uses it to scare the children. Her son is inspired, however, to head out on the range, to either discover that the story is a lie or to use his knowledge to confront the man with the hammer and survive.