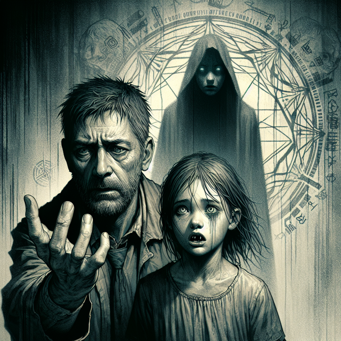 By Hernan Diaz, first published in Playboy.
In a dystopian future, a man tries to convince his daughter not to return to the cult that has put her in debt through a disturbing, invented currency which bonds humans together.
Summary
A man's daughter returns home after over two years in a cult. She is thin and has missing teeth. She says she purposefully came while her mom was out hunting, because her mom would try to follow her when she leaves again.  The man remembers that when she first started attending the "Gathering," they had gotten into huge fights about it. He had ridiculed her. Her mom always took her side in fear of losing her. Eventually, the daughter had left. Now, the man tries to convince his daughter to stay with them. She explains that she can't because she has a huge debt to pay the "Coach." The man tries to offer her "units"—the mainstream form of currency in this world—but she continues to explain that the Coach uses a currency that he invented called Emblems. Emblems are symbolic of the bond between all humans. Once all humans use Emblems, all humans will be bonded. Any function of living costs Emblems. The daughter is proud of her massive debt to the Coach because it shows her commitment to the "Bond." She says that since she is now so in debt that she will never be able to pay it off in her lifetime, she must be relocated. She says goodbye forever, and leaves before her mother returns. Eventually the mother comes home and shows her husband her catch of the day—a bloody body that is not identified. The man does not mention their daughter, and goes to help his wife.