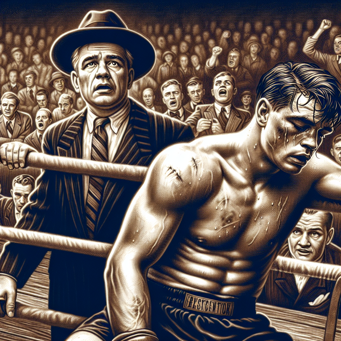 By Harry Sylvester, first published in Story.
A veteran boxer fights the fatigue of age as he faces off with his rival in two career-defining matches.
Summary
Billy Coburn is a thirty-three-year-old boxing champion. He is in the midst of a match with a strong opponent named Machter. He's beaten Machter many times, but with a smaller margin of victory each time. After each round, it becomes harder to stave off the weariness that sinks into his bones. Coburn's trainer, Trant, cheers him on ringside. The crowd's blaring cheers and Machter's relentless pummeling almost overpower him. Finally, the fight ends. Coburn wins by a razor-thin margin. Two of the judges voted that it was a draw, and only one voted in his favor. As the referee raises his hand in victory, the crowd's reaction is mixed. Coburn's loyal fans cheer him on, but a fair amount of Machter's supporters decry the result of the match. Coburn forgoes a word of encouragement to Machter and rushes back to the locker room to decompress. Five months later, the two fight again. Coburn has had several easy victories in the interim. However, fatigue sets in as soon as the first round begins. Machter seems even more agile than the last time. Coburn holds his own until the break before the ninth round. He is sure that it's been nine rounds already, but Trant assures him that it's only been eight. Coburn has never felt this tired so early in a fight. He starts the ninth round in disbelief, and Machter lands a particularly punishing punch. Coburn feels himself hit the ground. He doesn't understand — this hasn't happened in over a decade. Why can't he stand up? Why are arms grabbing to lift him off of the floor? Coburn is dazed as Machter exclaims in victory. It's a knockout.