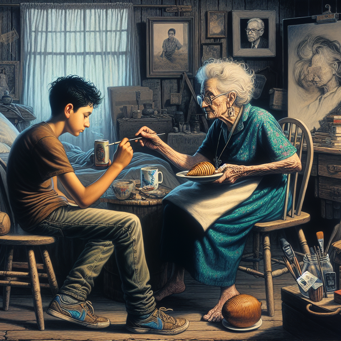 By Han Ong, first published in The New Yorker.
An undocumented teenaged live-in helper and an eccentric elderly painter form an unlikely relationship in the southern U.S. borderlands.
Summary
An undocumented 14-year-old named Javier offers to work for a famous 82-year-old painter living in New Mexico. The painter tells Javier to come in and eat before walking back home. The painter is moving into a retirement home. Javier works as an assistant and housekeeper to the painter and lives in her garage. The painter buys Javier a fake ID. A brush with the police is quickly resolved thanks to the painter's status. Soon, a woman named Diane comes to the painter's house for tea. Diane works for a wealthy man from LA who has bought twenty of the painter's works from the past 15 years, which he will soon put in a museum he is building. Diane stays over for the night, sent by the man to interview the painter for the exhibition. After Diane's visit, the painter becomes preoccupied with an unknown thought while she continues painting. One day, she shows Javier what she has been working on. Javier tells the painter that the paintings she has shown him are different from her other work. The painter stops painting for a month and declares that she is ready to move on. The painter takes her paintings to the backyard and one by one sets them on fire over the course of several days. The painter's drastic actions were set in motion by Diane's interviews; Diane and her client's interest in the painter were due to the painter's late blooming fame in old age. The painter's disdain for fame compels her to ensure the paintings she has just created exist only in her and Javier's minds. Diane returns to talk to the painter while Javier's mother and his mother's friends come to live at the painter's property. The painter does not let Diane in. Diane leaves after a heated argument and the painter does not return her emails. The painter buys Javier's mother a fake ID. Javier's mother and her friends decide to go live in a sanctuary church in LA. Before they leave, they make tamales for the painter. The painter, Javier, Javier's mother and her friends drive to the sanctuary church. Javier realizes he probably will never see his mother again and cries while he's alone.