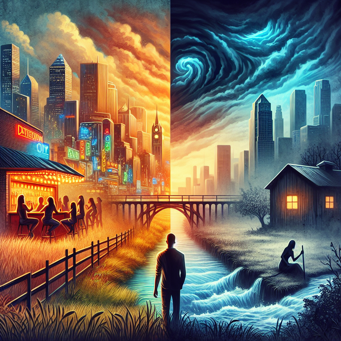 By H.E. Francis, first published in Kansas Quarterly.
A womanizing young man agonizes over the death of his girlfriend, acting in self-sabotaging ways and ignoring the pleas of his parents to stop.
Summary
The day of Lawton Wingfield's 21st birthday, his friends take him to a bar, The Club Wanderer, in a neighboring city. He moves to the city and begins frequenting the club every Friday night, wildly dancing and picking up women. Some time before, Lawton's girlfriend Alice becomes pregnant. Lawton doesn't' believe he is the father. He curses her, remarking that he hoped both she and the baby died. After trying to convince him of her fidelity to no avail, she commits suicide, jumping off a bridge they often visited and drowning in the river below.  Back in the present, and shocked into an agonizing catatonia by Alice's death, Lawton begins to frequent the Wanderer daily, where he, in wildly and endlessly drinking, dancing, and picking up and using women, experiences lurid visions of Alice in which he speaks to her but she never responds. Some of his liaisons even remark that he'd sometimes "slip and call [them] Alice," and that he seemed to treat them as "things," but that they suffered it because he was fun and energetic. After weeks of his slow self-destruction, Lawton is visited by his father who encourages him to come back home to be with family and take over the family farm, observing that Lawton looks sickly from all of his traipsing, but he refuses. The next few days and women later, Lawton is awoken by his mother who, after noting her husband's expectancy that Lawton would return to take over the farm out of sense of responsibility, cries and begs him to come home. He again refuses, remarking that he'd come home of his own volition, and continues the cycle of dancing and womanizing in some delusion that this will atone for his having pushed Alice to suicide.