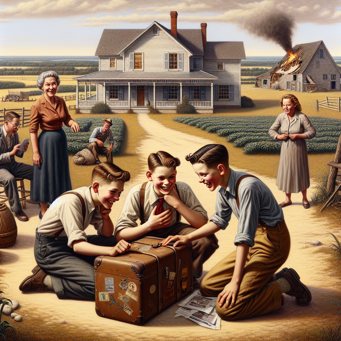 By Flannery O' Connor, first published in The Kenyon Review.
When three boys show up at a woman's Georgia property where one of the boys' fathers used to work, the woman cannot get them to leave, even as they wreak havoc upon the land.
Summary
Mrs. Cope's young daughter watches from the window as Mrs. Pritchard, who works on the property along with her husband, spreads gossip as they garden. While they tend to the grounds, three boys around the ago of thirteen arrive with a suitcase. One of them, a middle-sized one, claims his father used to work on Mrs. Cope's property. His father died, and now the boy, named Powell, lives in Atlanta. His friends tell Mrs. Cope that Powell is always talking about her property, and that he says it is the best place in the world. Mrs. Cope tries to be hospitable to the boys and feed them, but they are not particularly grateful. They ask if they can ride the horses, and she tells them no. They say that one of their uncles will be there the next day to pick them up, so Mrs. Cope says they can go sleep in the field, where they are away from the animals and cannot cause a fire. The boys agree to Mrs. Cope's rules. The next morning, Mrs. Pritchard reports to Mrs. Cope that the boys went riding on the horses. Mrs. Cope says that she is going to give them a talking to, but Mrs. Pritchard says that will only aggravate them. No uncle arrives to pick up the boys, and they stay on the property, doing whatever they want, and even steal milk from the delivery truck. All this time, Mrs. Cope's daughter offers to beat up the boys and take care of them. When the boys throw rocks across the river at Mrs. Cope's mailbox, she decides that she has had enough. She takes her car over to where the boys are, with Mrs. Pritchard and her daughter in tow, and tells them she will call the cops if they do not get off her property by the time she comes back from her errands. Mrs. Cope is convinced that she has solved the problem and scared them off, but the little girl knows they are still there. She goes to find the boys, and while she is hiding, realizes Powell's plan to destroy the property so that if he cannot have it, no one can. They light all the matches they have in Mrs. Cope's woods. When the child runs back to her mother, smoke has already started to rise. In a state of misery, Mrs. Cope orders her Black field hands to go put out the fire. She listens to the boys' shrieks of joy.