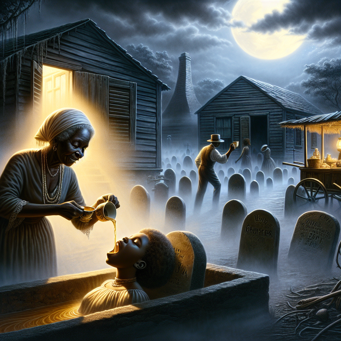 Graverobbing Negress Seeks Employment
By Eden Royce, first published in FIYAH.
In historical Charleston, South Carolina, a middle aged Black woman uses her family tea to revive Black corpses. One night, she makes a shocking discovery about the man who's kept the bodies hidden.
Summary
Under moonlight in 19th century Charleston, South Carolina, Miss Prosper pours tea into a corpse's mouth. The corpse awakens. Miss Prosper helps the corpse, a young Black girl, out of her grave and leads her to the corpse's family home. The girl's mother is overjoyed to welcome her deceased daughter home so she can bury her properly in a local graveyard. Miss Prosper instructs them the tea will wear off in five or six hours. On her way home, Miss Prosper stops to buy fried chicken gizzards from a young Black boy who runs a street cart. She tips him generously. When he tries to refuse the money, Miss Prosper instructs him to look out for her. Most of the other Black people in her community appreciate Miss Prosper's gift in bringing their deceased family members, mostly victims of lynchings, back to their families for proper burials, but some are skeptical of anyone who messes with life and death. Her mother and grandmother, both "strong root ladies," taught her how to brew the root tea when she was a girl. On the newspaper holding the fried gizzards, Miss Prosper sees a job listing which reads: "Employ Available—Negress Preferred." While pondering the job listing back at home, Miss Prosper hears a knock at the door. A young boy, son of Francis Station, asks Miss Prosper to bring home his brother whose dead body was recently found after being lost for years. The body was found in the marsh near the home of a dangerous white man named Jack. The boy pays Miss Prosper generously in advance. Later that night, while digging up the boy's grave, Jack tackles Miss Prosper with a gun. Miss Prosper realizes Jack isn't white; he's Black. Over the years, it's been Jack who's killed the children who have disappeared. He's gotten away with it by pretending to be white. When he's about to shoot Miss Prosper, Francis Station shoots him from behind. Miss Prosper revives the corpse of Francis' son and they all return home safely.