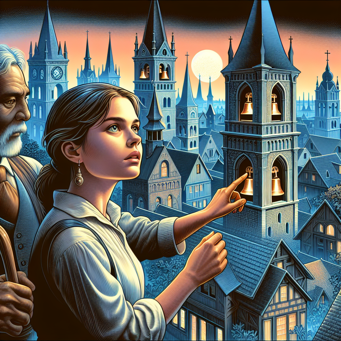 By Donald Barthelme, first published in The New Yorker.
A woman looks for a place to live in a town entirely comprised of churches, (but discovers...)
Summary
A car rental woman named Cecelia is looking for a place to live in a town called Prester. She is being shown around by a real estate agent named Mr. Philips. Mr. Philips informs her that the town is entirely composed of Christian churches of various denominations to the exclusion of all other building types.  Mr. Philips shows Cecelia a belfry apartment which contains large bells that ring three times a day. Cecelia is dissatisfied with this apartment and asks if there are any others, Mr. Philips tells her that there are, but she might have to have a roommate. Cecelia insists on having a place to herself to the bewilderment of Mr. Philips. Mr. Philips asks Cecelia which denomination she is, but instead Cecelia informs Mr. Philips that she can dream anything she wants and that most of these dreams are sexual. Mr. Philips is disapproving of this. Eventually, Cecelia is informed that everyone in town already has a car and that most likely nobody will rent from her. Cecelia decides then that she will not stay. However, Mr. Philips insists that she remain in town. Mr. Philips also tells Cecelia that the town already has her car rental shop set up. Cecelia demands to leave but Mr. Philips restrains her. Cecelia threatens that she will dream of the life they are most afraid of.