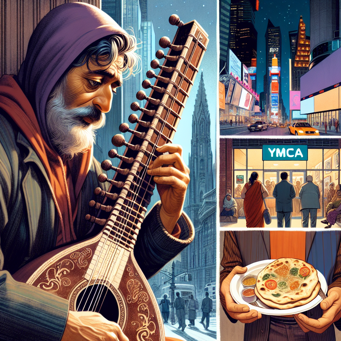 By Dina Nayeri, first published in The Southern Review.
Once a celebrity in his Iranian homeland, a homeless sitar player seeking to reconnect with his daughter finds refuge with a homeless Indian immigrant in a New York YMCA.
Summary
A homeless, internet-famous middle-aged Iranian sitar player named Rahad tracks down his estranged daughter, Yasmine. When he learns that Yasmine is spending the weekend in Connecticut with friends, Rahad stays the night in a local YMCA. The next morning, an Indian man with a forced American accent named Wyatt enters Rahad's room after hearing the music he is playing; Rahad decides that the man has a mental illness. The man soon leaves Rahad's room. The next day, Wyatt returns to Rahad's room and offers him fresh naan that he had prepared in the YMCA bathroom sink and had his friend bake. As Wyatt points out Rahad's sitar, Rahad reflects on his strained relationship with his daughter. The last time he had shown up unannounced to Yasmine's apartment, Rahad told Yasmine that he was living as a "drifter". The two got into an explosive fight, and their relationship continued to deteriorate as Yasmine—a Harvard graduate—condescends Rahad for his old-world ways. Rahad, Wyatt, and other YMCA residents share jam sessions on Rahad's sitar. Rahad soon creates a profile on a dating website. He exchanges messages with a scammer named Elizabeth. The next day, Rahad and Wyatt share stories about their homelands and their American children. Wyatt encourages Rahad to play his sitar in Times Square; after playing for some time, Rahad takes Wyatt to Starbucks. At Starbucks, they lament how their children undervalue their skills, experiences, and knowledge as immigrants. As they talk about their struggles as immigrants, Rahad notices that Wyatt's forced American accent disappears. Wyatt reveals he was not actually born in D.C.; according to Wyatt, all "fresh off the boat" immigrants say they are born in D.C. This is a "big, big true". Rahad calls Yasmine and tells her about websites that describe his career in Iran as a sitarist. Rahad and Wyatt then take the bus back to the YMCA.