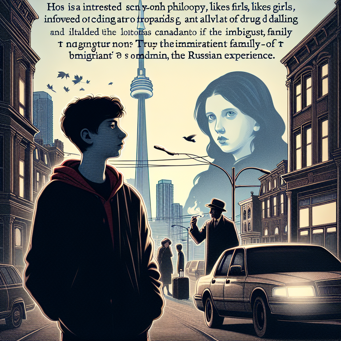 By David Bezmozgis, first published in Harper's Magazine.
When an uncle's last-chance marriage brings a mysterious girl into a Russian-Canadian teenage boy's life, their burgeoning relationship upends his social standing and threatens to tear his family apart.
Summary
At sixteen in Toronto, Berman cares about three things: weed, philosophy, and girls. That spring, his uncle Fima meets and marries Zina, a woman who will change his and his family's life forever. She and her daughter, Natasha, move to Canada from Moscow, and they quickly become familiar with Berman's large, Russian immigrant family. Natasha soon proves to be a handful. Berman's parents make him show her around, and the two hit it off quickly. She accompanies him on his job—selling weed for Rufus, his dealer—and he quickly realizes just how much she has been through. Natasha, a fourteen-year-old, has had sex hundreds of times, appeared in child pornography, and tried countless drugs. As they teach each other about their respective countries, they begin to fool around in his basement with drugs and each other. Meanwhile, Zina and Fima's marriage deteriorates, and the family begins to turn against her. One day, Zina bursts into Berman's house and describes what Berman and Natasha have been doing, and, the next day, Fima finally leaves her. Natasha ensures it. Knowing that Fima was too timid to end things alone, Natasha begins to fondle him such that Zina cannot help but find out. The girl then runs away from both Berman and her mother. To Berman's dismay, Natasha lands with Rufus and his friends. Her one condition? Berman has to leave the group. Near tears, he walks away and swears vengeance in the form of starting fresh on his own.