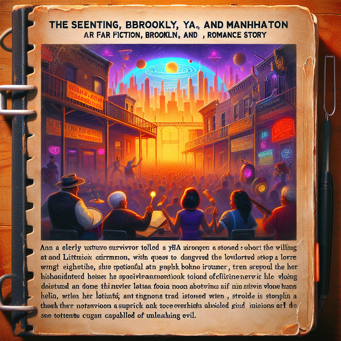 A Stranger at the Bochinche
When a notebook full of top-secret designs is looted from a Brooklyn saloon, a Latino drummer and his inventor girlfriend must go on a quest to retrieve it from a rival Manhattan gang.
Summary
An elderly survivor of the Four Corners War tells the newer generation about a story that took place long ago. A group of people were in a Brooklyn saloon called the Bochinche, including Ramses Garcia Garcia, who loved to play the drums, and his inventor girlfriend, Rosie. They were at the saloon one day when someone from a rival gang based in Manhattan takes Rosie's notebook. The notebook contained Rosie's designs for various technologies; in the wrong hands, the designs could be used to wage evil. Ramses and Rosie leave the saloon to search the town. Ramses spots the notebook from overhead and starts to read what the stranger wrote in it. Inside, there was a fiction story. As Ramses reads, he feels tentacles wrapping around his legs. The stranger comes out and confesses that he took the notebook and wrote the story in it to help facilitate the entrance of extraterrestrial Visitors into Earth. Ramses begins to panic that it's too late to keep the aliens away, but Rosie saves him; they hack the alien into pieces and escape, saving the world.