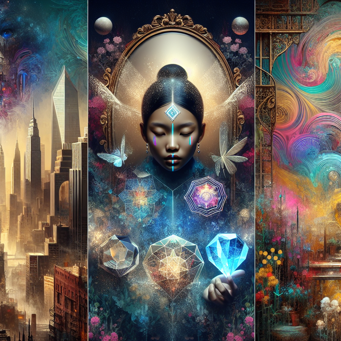 By Courtney Bird, first published in Fairy Tale Review.
Three girls in three different worlds, ranging from New York City to a fantasy kingdom, all grow diamonds in their bodies when they are sad, and each is exploited for this in a different way. As they grow older, this ability determines the shape and outcome of their lives.
Summary
Three girls, all with very different lives from very different worlds, all grow diamonds in their bodies when they are sad. The narrator continually switches between the different stories and explains that while we might be more used to some of them than others, they are all ultimately variations of the same story. One girl is sexually abused and kidnapped by a drug addict who uses her body to pay for his addiction. Another girl is abandoned by her mother when she discovers that her daughter was sleeping with her boyfriend. Left alone, the girl discovers that she can grow diamonds and eventually moves to New York City and makes a better life for herself. The third and youngest girl, lives in a fantasy kingdom and discovers that she grows diamonds after her older half-sister dies. Left alone with her neglectful mother after her sister's death, the little girl travels to the local witch to seek help with her diamond affliction. The witch says she can give the girl a better life then tells the king about the girl. Because the kingdom has been in insurmountable debt for so long, the king is overjoyed and sends his sons to ask the girl to marry one of them, or, at least come back to the castle and live with them. The young girl moves to the castle and lives with her mother and the witch. She has everything she asks for and becomes happy. As a result, she stops growing diamonds. When the king realizes what is going on, he sends her, her mother, and the witch to a cave by the sea so that the girl will be sad and grow him diamonds again. As she grows older, the king becomes incredibly wealthy. He and his sons—even the youngest who was the girl's favorite—forget about the girl. The narrator then presents two endings. In the first, the young princes comes back for the girl and they get married and live happily ever after. They have a daughter who cries frogs and the girl is incredibly relieved because she knows no one will ever try to harm her daughter frogs. In the other ending, the prince does not come back for the girl. Instead, the witch saves the girl and gives her a swath of sky to wrap herself in to escape. The girl becomes the sky and her diamonds shine as stars at night.