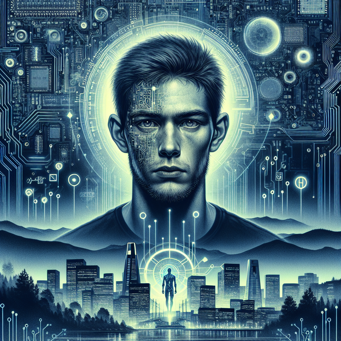 By Cory Doctorow, first published in Salon.com.
An AIDS patient in California steals an experimental government tech that cures his disease and enhances his human performance. He and his friend concoct a plan to release the tech into the general population.
Summary
Murray Swain, a coder for a prominent Silicon Valley tech company, falls into a depression spiral after his only friend, a speed junkie named Liam, dies of AIDS. One night, months later, Liam appears alive and better than ever. Liam explains that he was part of a secret government project which used an experimental tech to take control of the body's autonomic systems, allowing him not only to recover from his lethal disease but also to max out his capabilities, improving his physical condition, resistance to disease, memory, etc. Liam had secretly escaped the federal facility he was in and was on the run. Without getting his consent, Liam infects Murray with a viral version of these enhancements, which can be controlled through programming. The two evolve a plan to spread the viral version of the enhancements and to sell upgrades in some faraway countries. One day Liam is caught and concocts a ruse to help the feds catch Murray so they can cut a deal to work on the project rather than get shipped to some black-site. After they're caught, Murray refuses to work and is granted a release from further involvement with advancing the tech. The story ends with Murray getting a junkie to buy him parts for improving on these enhancements, despite the agreement he'd come to with the feds, before he steals away to Somalia with a fake passport he purchased in New York.