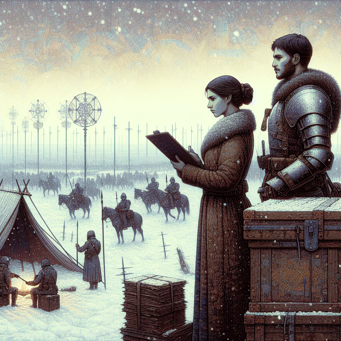 The Captain and the Quartermaster
By C. L. Clark, first published in Beneath Ceaseless Skies.
After six years of bloody civil war, the relationship between an army commander and her quartermaster wife has foundered and it's unclear whether their love will last through the final battle.
Summary
CommanderMaeb Len, a fighter in the People's Army, greets her fellow officers in her tent before their last campaign. They have been engaged in civil war against the Tyrant for the last six years and many have grown weary of the fighting. High Commander Aulia gives a speech meant to inspire hope and explains their plan. They will need the best quartermaster to help maintain supply lines for the attack. Quartermaster Omopria, Commander Len's wife, is the most experienced, but she also wants to go home.  Commander Len met Jissia Omopria six years ago, after the first spark of rebellion. It is a bloody battle and afterwards Maeb and her company limp back to camp. The soldiers line up to receive their rations of soup and the Quartermaster's Assistant, Jissia, serves them. One of the Captains starts harassing Jissia about not giving him enough soup. Maeb distracts him with compliments and alcohol. Later that evening, Jissia brings Maeb soup and thanks her. Four years into the war, Maeb and Jissia are married. Maeb kneels at Jissia's bedside, tending to her as she fights an illness. One of the lieutenants stops by and informs Maeb that the enemy has been fouling their water supply by dumping corpses upriver. This is likely what's caused Jissia's illness. In the early days of their courtship, Maeb and Jissia would sneak away from camp to be together. They had hope that the war would end quickly. But when Jissia's fever breaks, so does their relationship.  Maeb and Jissia start to bicker. Maeb visits the sparring square more often to distract her from thoughts of her wife. In the ring, she fights and flirts with another captain, Rix Aulia. Captain Aulia understands Maeb in a way that Jissia cannot. Jissia accuses Maeb of cheating on her with Aulia and Maeb doesn't deny it. As the war drags on, they continue to drift apart. Jissia believes that Maeb thrives on the never-ending war, whereas it has been wearing away at her for years A few months before the final campaign, Maeb acknowledges that Jissia is unhappy and tells her she can leave. But Jissia insists she will remain at camp and see things through to the end. After six years, the People's Army is desperate. They must win this final battle. A few days before they march on the Tyrant, Jissia makes sugar biscuits to boost morale among the soldiers. She and Maeb pretend to still be in love. A younger deputy praises their marriage and insists that it is proof something good has come from the war. However, when the army begins marching the next day, Jissia doesn't come with them. She and Maeb say goodbye and go their separate ways. Maeb weeps as she rides away from the camp. After they win the war, Jissia opens a school and Maeb takes a seat on the People's Council. Both of them find love again and their lives go on.