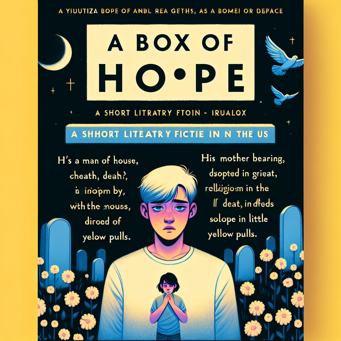 By Brian Panowich, first published in One Story.
A teenager learns how to cope with the premature loss of his father. Through a newly developed relationship with his uncle, he discovers a new version of his father he wasn't privy to during his life.
Summary
Fifteen year old William just lost his father. He now is effectively the man of the house, a reality that is not lost on him. He resumes the responsibilities his father left behind; priority number one being his mother. It is now his job to hold her as she cries in the department store over a pair of dress shoes because her entire world's been shattered and allow her to purchase expensive ties they don't have the money for out of fear of upsetting her.  
They form different coping habits. His mother leans on little yellow pills that soothe the ache of losing the love of her life. And although the idea of not being able to feel the pain tempts William, he is more concerned with upholding the image of who his father wanted him to be; a rule abiding young man. 
At the after party of his father's funeral William replays the events of the last few weeks in his mind. He recognizes an anger and loneliness taking shape inside of him. He wants to lash out, no one deserves it. He wants to be comforted, no one can be there for him. 
William's father's brother, uncle Jack, who up until that point only existed in old photo album pictures, joins him on the stoop of the house. The interaction is uncomfortable at first. Two men as unfamiliar with each other as with the emotions surging through them. It doesn't last long, they share a cry that turns into laughter and eases the tension. The conversation is short but brings both men a sense of comfort.  
Before uncle Jack leaves, he gives William a box of his father's old comic books. At first William is skeptical because he's never known his father to read. He is introduced to the version of his father before he got married; a man who spent all of his money on comic books and wanted to become a comic book writer. At the end of the exchange both William and his uncle were able to find the silver lining within a tragic event.