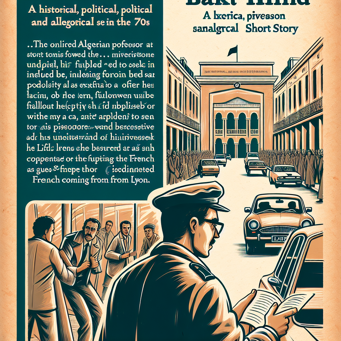 By Blair Fuller, first published in The Massachusetts Review.
An Algerian university professor and former prisoner of France struggles with the symbolic implications of getting advice from an elite French visiting professor.
Summary
Bakti, a professor at a university in Algeria, is on his way to a conference to decide grades for students earning certificates that year. He is especially anxious that one of the other professors will drive by in their car and see him walking, and is concerned that they will look down on him for not having a car. He is most concerned that he will be seen by the professor chauffeuring a distinguished guest. The guest is Professor Carrère from Lyon, France. Bakti arrives early at the university without having any encounters, and he prepares the conference room. After some time, professors from the different faculties begin arriving—French teachers of Spanish, an Englishwoman, and an American. There are even teachers of Arabic, although they would not be presenting any certificates until the next year, because of the importance of Professor Carrère's and the precedent the meeting would set for grading each language section in the future. As processions begin, Bakti reveals in his inner monologue that he was fervently opposed to Professor Carrère's coming to the university. Bakti himself had been a prisoner in France twelve years ago, and he feels embarrassment on behalf of himself and the university to now be asking for a Frenchman's advice. When Professor Carrère offers to help with a menial task, averaging the grades, Bakti even more strongly feels the elevated importance of Professor Carrère as compared to himself and his fellow faculty. Bakti finally speaks up and disagrees with one of Professor Carrère's suggestions, causing a hush to come across the table. But another professor, Benslimane, is quick to smooth over any conflict, assuring Professor Carrère that his presence is appreciated. This condescension only annoys Bakti further. Further tension arises when Professor Carrère implies that the graduates of the Algerian university will continue on to higher education studies in France, and therefore must be graded strictly. Bakti understands that he is implying that the Algerian university is not good enough to send students to study in France. By the end of the meeting, he begins to change his students' grades to either higher them, and "cancel out" what he feels is Professor Carrère's strict grading, or lower them and cancel out what he feels is the American teacher's generous grading. In the end he has changed many of his student's scores. The group disbands, and as Bakti leaves he considers the heavy load of precedent-setting work that still needs to be done in other departments of the university.