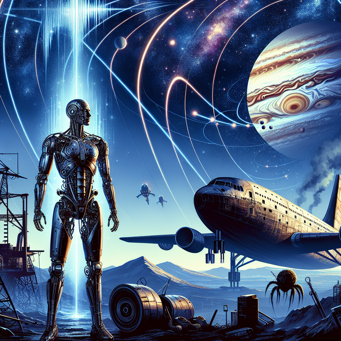 By Arthur C. Clarke, first published in Playboy.
The captain of the largest aircraft in history becomes a cyborg after his aircraft crashes, and he sets his sights on becoming the first man to land on Jupiter.
Summary
A young man is the captain of the Queen Elizabeth, the largest aircraft in human history. The aircraft spans 0.3 miles long. However, a technical malfunction causes a remote camera to crash into the Queen Elizabeth and cause him to do an emergency landing, killing the crew and severely injuring himself in the process. He goes through surgery and rehabilitation, and comes out at the end of it as a cyborg. He successfully convinces people to man a mission to Jupiter and becomes the first person to be on Jupiter. He sees intense radio wave storms and encounters cloud-and-wax animals who have evolved to use radio signals as protection. He also makes first contact with one of these creatures, which we calls Medusa. After his mission, he feels a greater sense of purpose: He will the ambassador between man and machine as humans explore more of space and encounter the strange creatures that populate it.