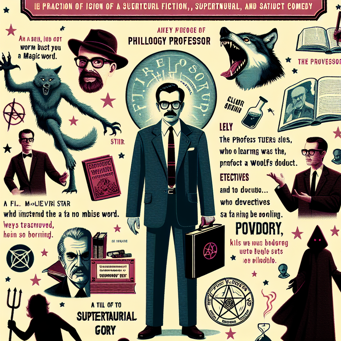 By Anthony Boucher, first published in UNKNOWN.
When a philology professor learns a magic word that can transform him into a wolf, he uses this power to try to impress his former student, now a famous actress. However, the actress is not what she seems.
Summary
In California, Professor Wolf Wolfe is in love with his former student, now famous movie star Gloria. However, when he proposes to her, she rejects him because he's too boring. His secretary, Emily, tries to comfort him and another professor, Professor Fearing, offers to take him to a temple. Wolf Wolfe does not know that Professor Fearing is running a satanist temple. Wolfe rejects both offers and goes to a bar to drink away his sorrows. At the bar, Wolfe meets a magician that gives him the power to turn into a wolf if he says the magic word: Asbark. The only issue is that Wolfe cannot say the word that will transform him back to human when he is in wolf form and needs someone else to say it. Regardless of this impediment, Wolfe is sure that he will impress Gloria. His excitement grows when he learns that Gloria will be coming to town for a show in two days. At the same time, a detective named Fergus interviews Wolfe about his relationship with Gloria, which Wolfe says was only a student-teacher relationship. The detective does not reveal why he wants to know about Gloria, and Wolfe does not bother to ask him. With Gloria's return to California approaching, Wolfe decides to practice his wolf form with the help of the magician, who will say the magic word to transform him back to human. However, during one of Wolfe's practice attempts, he gets locked in his classroom. Needing to transform into a human, he writes the magic word on the board and his students say the word. However, when he transforms into a human, he is naked, which causes the school to fire him. Wolfe fears he will not impress Gloria since he lost his job until he discovers that the show Gloria will be performing for needs a dog. He transforms into a wolf and recruits the magician to be his "trainer." The two perform in front of Gloria, but the magician decides to vanish in the middle of the act. This becomes a blessing in disguise as Gloria decides to take care of the dog until his "owner" can be found. In the dressing room, Gloria is taking care of Wolfe in dog form when the detective comes to ask Gloria why she came to California. Gloria says that she returned to California because she realized her true feelings for Professor Wolfe and Gloria wanted to confess her love to him. As soon as the detective leaves, Wolfe writes the magic word in lipstick on the dresser, and Gloria says the word, allowing for Wolfe to transform back into a human. Wolfe is ecstatic, and Gloria asks him to transform back into a wolf. Wolfe eagerly does so, and Gloria reveals that she lied to the detective to protect herself and wants to keep Wolfe in wolf form indefinitely. She reveals that she actually wanted to see Professor Fearing, who is running a Satanist Temple. The detective is after them as he wants to arrest anybody who is running or associated with the Satanist Temple. Professor Fearing arrives at Gloria's place, and Gloria reveals that the detective will ask Wolfe's secretary, Emily whom Gloria had asked to visit. Gloria explains that the secretary will tell the detective that Gloria asked to visit Professor Fearing and not Wolfe, which would put a hole in her story for why she came to California. The two decide to kill Emily so that the detective believes that Gloria came to visit Professor Wolfe. Wolfe escapes and manages to save Emily. Emily turns him back to human, and Professor Wolfe relays the news to the detective, locking up Gloria and Professor Fearing in jail.