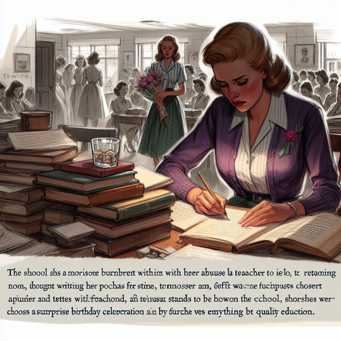 By Anne Sayre, first published in The Colorado Quarterly.
A teacher at an all girls school thinks about her abusive partner while she is living away from him. She is thrown a birthday celebration at the school and becomes overwhelmed with emotion.
Summary
Marr-Hawken, a school for young teenage girls owned by Julius Marr and Virginia Hawken, is not a good school. Helen Custer, an English teacher at the school, is aware of this, but she goes to the school anyway to escape Norman, her alcoholic partner. She writes letters back and forth with him, telling him that she doesn not plan on coming back home to him and that she is very occupied with helping create the school curriculum. Norman's response comes a week later, demanding that she tell him when she plans on returning and that he wants her back.  A student named Ida is interested in flowers, so Helen invites her pick some the next day. When they go, Ida falls into tears of joy at receiving flowers and shares that today is actually her birthday. Helen's own birthday is coming up in two weeks. Helen and Ida return to the school where Julius Marr greets them and seems happy at a teacher's kindness towards a pupil.  The day of Helen's birthday finally arrives and she spends most of the day imagining Norman's arrival at any given moment. However, the day passes and Norman does not make an appearance. After seeing Helen a bit upset, Julius comes and tells her to come inside for dinner and to avoid catching a cold. The other staff members sing happy birthday to her in the dining hall, and Ida breaks the rules by giving Helen, a teacher, a present. Overwhelmed with emotion, Helen runs out of the room in tears after failing to say a speech. She runs outside in the rain, and Julius follows her. He invites Helen to coffee with Virginaia Hawken. She goes to join them and they talk about sweet Ida.