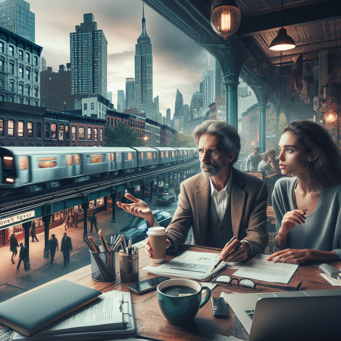 By André Aciman, first published in Granta.
A middle-aged New York editor becomes entranced by a young female writer whose work he rejects. As they meet more and more frequently for coffee, the editor endlessly analyzes whether or not the young woman shares his interest in becoming more than friends.
Summary
In New York City, an unnamed narrator reflects on his relationship to a young woman who often called him "Dearest." The narrator is a Brooklyn-based editor who meets the nameless woman after he rejects an article she wrote about opera. After her article is accepted by another major magazine with the narrator's edits, she insists on meeting with the narrator.
After talking for hours at a coffee shop in Abingdon Square about the opera singer Maria Malibran, the two begin to meet often. They communicate exclusively through email, seeing each other over and over again at the same table at the same Abingdon Square coffee shop. Each time begins with the young woman ordering the narrator a cappuccino and ends with her kissing him on both cheeks. He mulls over her sentences, reads into her emails and words, questioning her intentions. He reaches out to his German friend Raùl for advice on how to address his growing feelings for her without ruining their current connection. 
One day, the young woman tells the narrator she's ending things with her boyfriend because she's met someone else. The narrator does not share his feelings, only analyzes her further. They speak to each other without revealing what each is thinking. This pattern soon begins to frustrate the narrator so, with encouragement from Raùl, he plans to tell the woman how he feels about her over dinner. During dinner, the narrator sits on the edge of revealing his true feelings, but the conversation lulls and he cannot. While walking her home, the narrator expresses concern over their age difference. The young woman does not seem bothered, but a slight shake of her head on her front stoop is enough to derail the narrator's imminent confession with more internal analysis. They part ways. 
Back home in Brooklyn, the narrator asks his wife if she's heard of Maria Malibran.