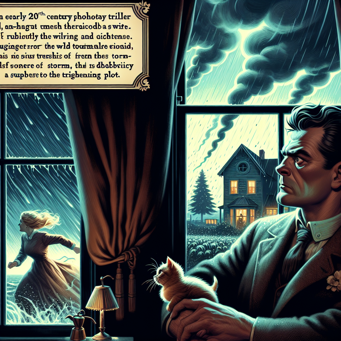 By Alvah C. Bessie, first published in Story.
A man who firmly believes he does not love the woman he felt obligated to marry begins to realize the gravity of losing her after she ventures into the woods one stormy evening.
Summary
Mr. Blake's wife, Margaret, tells him she is going on a little walk with their kitten, and although it is raining outside, Mr. Blake doesn't mind. Margaret has a habit of taking strolls alone, and after four years of marriage, this is no longer a strange occurrence. However, when the rain turns into hail and she hasn't returned for a couple hours, Mr. Blake's mind begins spinning devastating scenarios she may have landed in. He recalls the first time she took a walk. It was their wedding night, and at three in the morning, he woke to find her missing. A part of him wished she truly had left him, as they had gotten married more at her insistence than his, and when she appeared at dawn, he was furious at her for leaving without telling him.             Now, Mr. Blake conjures up images of Margaret navigating the slippery terrain near the stream she told him she would walk along. He imagines her slipping on the mossy rocks and cracking her skull on a pointed crag. Perhaps the now-lonely kitten would wander up to their house, forcing Mr. Blake to organize a search party and find Margaret's bloody corpse in the woods. Since it's hunting season, Mr. Blake also begins theorizing about the local hunters preparing to bring down deer, but soon cannot bear it anymore. He races into the storm, calling for Margaret, but there is no response. He returns inside, letting his mind scuttle once more. Margaret was wearing a tan coat when she left. Mr. Blake imagines the hunters stalking her, mistaking her for a deer, and shooting her. He imagines the men bringing him her body, their heads hanging in shame as he cries for her. He would mourn her, and for the next several decades he would spend in this town, all its inhabitants would whisper about Margaret's tragic death and Mr. Blake's life as a miserable and humble man. Or if she weren't hit by a bullet, maybe she might have been hit by one of the drunk men as they were driving. In any case, Mr. Blake is losing his mind, simultaneously drowning in Margaret's absence and the overwhelming presence of the things she has left behind. Part of him wants to admit that he is lost without her, and the other part demands that he does not care. Suddenly, he hears her. He rushes towards her, enraged that she has been gone so long and in such perilous weather, but she brushes him off with a gentle smile.